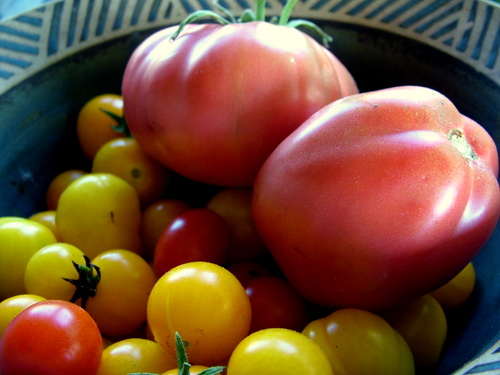 Back from welcoming Teo into the world, and a few days of warm weather with a lucky 50mm of rain , and the tomatoes have gone berzerk.  The big beefsteak one in the front is a Yugoslav, the one at the back a Brandywine.  These are my two favourite big tomato varieties.  They are both a bit fruit fly prone, so I have to be a bit lucky to get them – some years are worse for fruit fly than others.  And I only try for them early in the season – I won't plant any more now.  They are both supurb flavoured tomatoes though, and worth growing for dishes where the tomatoes are the star, like Margherita Pizza or Tomatoes as Themselves or Pasta Puttanesca.
The small red grape-shaped tomatoes are Principe Borghese.  It's an indeterminate, climbing variety that yields really heavy crops of sweet, meaty, fruit fly resistant tomatoes.  My breeding seems to have gone towards smaller and many-er than the standard kind – the seed you buy are likely to be more like mini-Romas.  They are one of my long-time favourite varieties, less seedy and more solid than cherries and good fresh or for cooking or bottling or sauce making, and very robust and reliable.
The yellow cherries are a new favourite.  I got the seed from some wild ones I found rambling all over a native bed in a park.  They were yielding really heavily even in poor soil, no water, lots of competition, harsh sun.  I've always been a bit shy of yellow tomatoes, thinking them a bit sallow but these are a good real tomato flavour (if a bit pale alongside the Brandywines :).  They are also prolific and so hardy, I haven't planted any this year – they're all self-seeded ones. The red cherries are the same – self-seeded, fruit fly resistant, hardy and prolific.
There's a couple of Romas in there too, hiding.  They are fruit fly resistant and hardy, if not quite as prolific as the Principes and cherries.  Some years I go for San Mazanos but they tend to be a bit more disease prone.
I grow all indeterminate varieties, so all the plants bearing now should keep on producing right through until winter.  Summer really has started.
[relatedPosts]