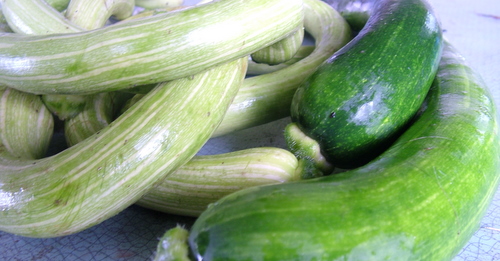 This is the first year I've grown tromboncino, so I don't know how normal this is. Most of them have had a light, lightly striped green skin with a pale, dense, zucchini-like flesh. But one plant is bearing darker green skinned tromboncino, with yellower, more squash-like flesh.
I've been watching and noticing to see if there is any difference in productivity or resilience, but the only difference I've been able to see is the fruit colour.
I like both types, and I'd like to grow both types next year so I am leaving a couple of fruit of each type to fully mature to save seed.  Trouble is, I have only one plant bearing the dark green type. I could try hand pollinating, using a male from the same vine to fertilise a female flower. 500m2 in Sydney has a good little post about how. But self-pollination is only successful about a third of the time with cucumbers, so I might not get any fertile seeds that way. And even if I do get fertile seeds, they will have all the problems of in-breeding. So I'm just going to hope that it's not a recessive gene, and that the mama genes are strong enough to shine through whoever the bees decide to make the dad.
But I might, next year, try planting only one kind at a time so I can get some good second generation seeds of those dark green ones. I'd hate to lose the variety altogether.
[relatedPosts]