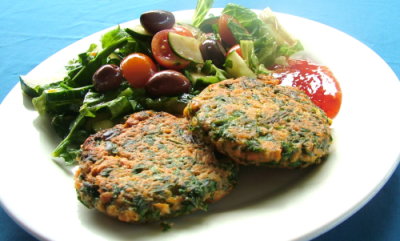 This is one of those magic recipes that can be rustled up when you think you have almost nothing in the house and comes out fit for a dinner party. A can of salmon in the pantry and some herbs in the garden and you're most of the way there.  It is also a great everyday healthy dinner – fast, cheap and featuring the superfood salmon.
I've stopped buying canned tuna altogether. Several species of tuna are critically endangered and likely to become extinct, and although skipjack, the species most often canned, is not itself listed as endangered it is being fished beyond a sustainable level and the methods used to catch it catch more vulnerable species as well.  And anyway, it's not much of an omega3 or 6 source, certainly not enough to go on the superfoods list.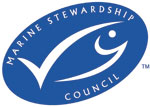 I've switched to canned pink salmon, or red salmon if I'm feeling like splurging. It's got a lot of food miles on it, but canning is a more energy efficient way of preserving and transporting food than freezing. I look for the Marine Stewardship Council tick which indicates it comes from a sustainable fishery. These fish aren't farmed but caught from the wild using nets. John West Alaskan pink and red salmon and Aldi's Ocean Rise pink and red salmon both have the tick.
Although canned salmon doesn't have quite the omega 3 levels that fresh salmon does, it is still one of the best sources there is. And since salmon is not native to our waters, the choice for me is either canned or farmed. Tasmanian salmon farming is greener than that in some other parts of the world, but still a worry, from both a health and an environmental point of view.
The recipe: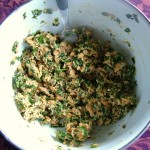 Drain a can of salmon and mash with a fork with one or two eggs (one for a small can, two for a large one), a lot of chopped herbs, and just enough whole meal plain flour to make a mix that can be moulded into patties.
"A lot of herbs" means much more than you would think – you could fill the salmon can with chopped herbs and it wouldn't be too much. And the ratio of each doesn't seem to matter. Choose from dill, coriander, parsley, chives, thyme, lemon thyme, basil, lemon basil, mint, vietnamese mint, lemon verbena, melissa: I use whatever I have currently in the garden.
Mould into patties and fry in a little olive oil over a medium flame until set and golden. They go well with a green salad or plain steamed vegetables, and some sweet chili sauce on the side.