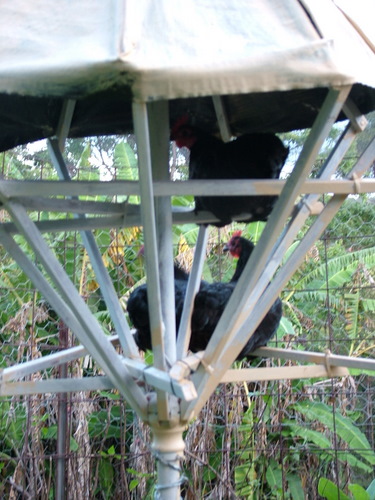 This has been practically the longest period in my adult life without chooks!  Back in September, our very large resident carpet snake got the last one.  She had taken to roosting in the bay tree.  I actually saw the snake heading up the tree in the mid-morning, and made a mental note to catch my one remaining chook and give her a compulsory warning not to roost there.  And then, in the middle of the night, I woke with a start  – I'd forgotten all about warning her. I felt so guilty.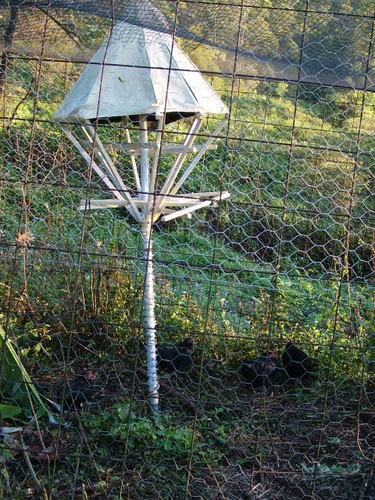 Back in the days when I gardened using chook domes, I very rarely lost one to a predator.  But the bandicoot-enforced change to fortress fencing meant I could no longer use chook domes, and the free ranging chooks became vulnerable to goannas, carpet snakes, and wedge-tailed eagles.
Carpet snakes have been the hardest predator to foil.  I've never managed to build a cage large enough for chooks and strong enough to keep snakes out, not permanently.  They seem to spend all night going over and over my cage trying to find the weak link. A friend has succeeded with electric fencing, but it means keeping the chooks in a "chook yard" and that limits their multiple uses.
This is the new roost design.  I am hoping that while I can't win in persistence against a hungry snake, I can win in intelligence (and having opposable thumbs helps a lot).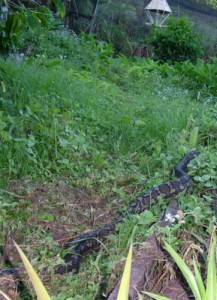 This one is the pilot "proof of concept" version.  It is made from a recycled market umbrella, painted with some old paint to improve its outdoor lifespan, and with roosts nailed up in the canopy of the artificial "tree".  The umbrella sits in a galvanised pipe holder donged into the ground, and the leg of the umbrella is wrapped in extra sharp barbed wire, designed to stop a carpet snake from climbing it. I can move the roost around my fenced garden beds, allowing the chooks to refresh them and keeping them safe from goannas and eagles at the same time. That's the theory anyway.
I have chosen bantam Australorp crosses as the chook breed, because they are a bit flighty and can fly up to roost, hopefully higher than a carpet snake can rear. This snake was very eager to test the theory on Day One.  So far so good.  Fingers crossed.
[relatedPosts]