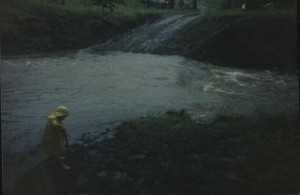 We are safe and dry, but cut off by floodwater.  We managed to bury my father on Sunday and to hold a very beautiful funeral in the midst of flooding rain moments before becoming isolated.
I feel very lucky.
We have our own tank water, and there's plenty of it, so there's no need to fear lack of clean drinking water.  We have  plenty of firewood.  We have stand alone solar power, so although there is a severe lack of sun, if we are frugal with it we have power and no risk of it being cut. Although the garden is sad and sodden, there is enough food in it that we could survive for weeks (and then we'd have to start eating the bush turkeys – I've been waiting for a good reason to eat them!) Best, and most important of all, we have CB radio contact with all our neighbours so  there is help available for large emergencies like an accident, or small ones like running out of chocolate.
We'll just sit tight and think of it as a dress rehearsal.