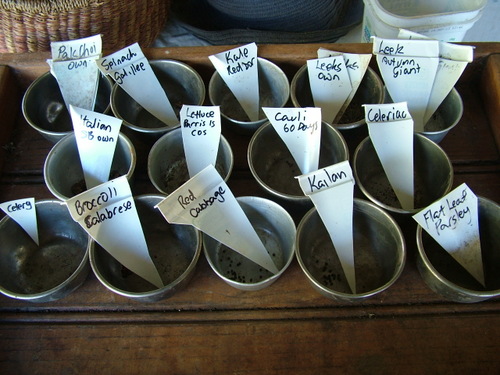 I'd never noticed it before I started blogging, but there's a pattern here.  Every year I seem to be thanking my lunar calendar that I got anything stuck in during early Autumn at all.  What is it with March?
I've done it again this year – all but missed the leafy planting days, determined to get something planted no matter what, and had a post half written in my head about "one of the things I like about the lunar planting calendar, that it pushes me to rescue my gardening from the "things that can be put off for a week or so" pile".  Till I realised that's exactly what I wrote this time in 2011.
In my part of the world – northern NSW – it's the turn of the seasons time.  We've probably seen the last of the heat wave days when it's a waste of effort planting out leafy greens and you can feel the coming coolness in the air.  It is coming into our wet season so we're likely to get rain. It's past Lammas, the festival marking the point when, though the days are still long,  if you graph the day length the graph starts a steep downhill plunge towards the winter solstice.  So bolters are not in such a hurry to set seed into what they think is the approaching snow, and instead they bunker down with food stores to survive till the days start lengthening again – food stores like bulbs and hearts and tubers.  The summer insect pests are still around but they've lost their head start on predator populations.  I see hover flies and lizards all over the garden now and a grasshopper needs to be lucky to run the gauntlet.
All of that means I can, for the first time, plant water loving leafies like lettuces and celery with some hope.  I can plant bolters like coriander and parsley and silver beet and they'll hang in there for a while.  I can plant cool season things like leeks and spinach, and cabbage moth targets like kale and cabbages, broccoli and cauliflower.
Not too many of any of them – there's several months of successive plantings to fit in yet, but today I'm making time to get these seeds into the seed boxes in the shade house.  The boxes are sitting ready in the shadehouse, the same ones I used for summer planting recycled.  It will take a matter of minutes, and, like every year it seems, I'll thank my lunar calendar that it made me do it.
[relatedPosts]