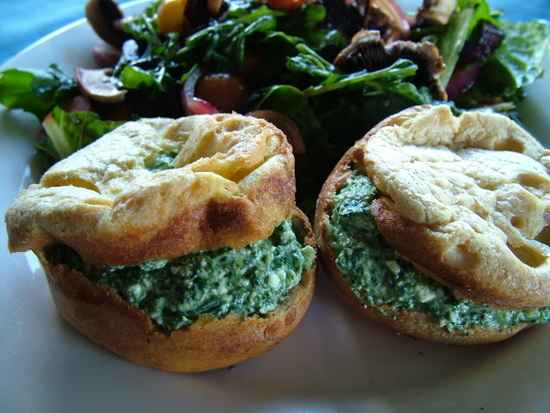 I think Yorkshire puddings are the same as popovers in USA, or almost the same.  They are crisp on the outside, almost hollow on the inside little pastries made with a very simple mix of equal parts milk, eggs, and plain flour.  These were baked in regular sized muffin tins and took 25 minutes to cook. They could probably have been a little browner, but my oven is slow to heat up and they are insanely fast and easy to mix, so they would just fit into the half hour of the  Tuesday Night Vego Challenge rules for most people with a non-antique oven.
I use wholemeal plain flour and they work fine. Real wholemeal flour from the wholefoods shop, not "wholemeal style" flour from the supermarket, which is another of those marketing deceptions that drive me nuts. If you read the fine print, wholemeal style flour is white flour with bran added back in. The problem is that wheat germ goes off. So wholegrain four with the wheat germ in it has a shorter shelf life, too short for supermarket stocking.  Lots of real down-to-earthers advocate grinding your own flour because of this. I'm just not dedicated enough to do this, but I do buy wholemeal flour in smaller quantities, regularly, from the wholefoods shop rather than the supermarket.
The other major ingredient is silverbeet, which is in season and in bulk in my garden right now, and is a superfood for a whole heap of reasons –  antioxidant beta carotene (good for protecting against aging inside and out due to cell damage), folic acid (good for immune and nervous systems), iron (good for energy),  and calcium and magnesium and vitamin K (good for bones).
The Recipe:
I'll write the recipe out for a one person serve of two yorkshire puddings, as in the pic. The recipe scales fine – I actually made it for two this time. You just multiply by the number of people.
Put a teaspoon of olive oil in each cup in a regular sized muffin pan, and put it in the oven. Turn the oven on to heat up. You want a fairly hot oven, and a hot pan with hot oil.
Put three glasses on your bench. Break one egg per person into one glass.  Fill the second glass with milk (semi skim is fine) up to the same level and the third glass with plain wholemeal flour up to the same level.
Tip all three into the blender, or into a bowl, add a pinch of salt, and whisk or blend to mix.
When your oven and muffin tray are hot, pour the batter into the muffin tins, filling them about two-thirds full.
Put it in the oven and bake, preferably without opening the oven, for around 20 minutes till they are risen and golden brown.
While the puddings are baking, make the filling.
Strip the leaf from the stalks of 4 big silverbeet leaves per person.  Blanch them in boiling water for a couple of minutes, then drain well, pushing down with a potato masher to get all the water out.
Blend the blanched silverbeet with a good dessertspoon per person of cottage cheese, and 40 grams of feta (low fat is fine) per person.  I like to add a touch of wasabi or grated horseradish too, but that's a matter of taste.  You might prefer a little spring onion, or sauteed onion, or just as it is.
As soon as the yorkshire puddings are ready, tip them out, cut in half, and fill with the filling.  They're best served straight away while hot.
[relatedPosts]