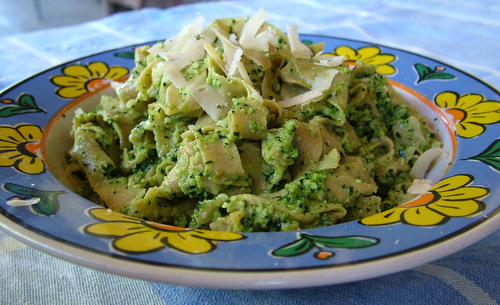 In the scale of foods that are Popeye worthy, kale is about as dense a source of vitamins and minerals and antioxidants as you can get, including Vitamin K which is important for bone density and for brain health, and Vitamin A which is important for skin and eyes. But more uniquely, it's also a source of some important anti-cancer phytochemicals.
It's also really easy to grow over winter and we eat lots of it,  in soups and stews, tempura and pakora,  pasta and noodle dishes, stuffed and baked and very lightly steamed.  But this is probably my best recipe for bulk kale in a dish you're happy to eat regularly.
Spelt Fettucini
It really does only take minutes to handmake small quantities of pasta.  If I had to feed a large family, I might baulk at it, and no doubt it would be better pasta if I used all the Masterchef tricks of kneading and resting and laminating.  But if I am thinking about a quick easy dinner for just us, quick easy handmade pasta is a hundred times better than bought pasta, even if it wouldn't impress Matt.
I get to use one of our proper free range real eggs, and just for a change I used wholemeal spelt flour for this one.
In the food processor, blend:
one large egg
½ cup wholemeal spelt flour
a swig of olive oil
good pinch salt
Blend until it comes together into a soft dough.  It needs to be not sticky but soft.
Flour the workbench and knead very briefly, kneading in enough more flour to make a smooth, non-sticky dough. It will look like quite a small dough ball, but a little bit goes a long way.  Let it rest for a few minutes, covered with a wet bowl or cup, while you make the pesto and boil the water, then roll it out and cut into noodles.
Kale Pesto
Dry roast ½ cup roughly chopped macadamia kernels by cooking them, stirring constantly, in a heavy fry pan for just a couple of minutes till they get a touch of brown.  Be careful not to burn them. Dry roasting makes a huge difference.
You can wipe out the food processor if you like, but you don't need to wash it.  Blend together, scraping down the sides with a spatula a couple of times:
 ½ cup dry roasted macadamia kernels
40 gm parmesan cheese
clove of garlic
pinch salt
8 cavolo nero kale leaves stripped from their central vein
enough olive oil to make a pesto texture
At the very end, add two pieces (about 20 grams) preserved lemon, and just pulse it in to chop it fine rather than blend it in. (Alternatively, you can just chop it fine and stir it in).  If you don't have any preserved lemon, you can substitute juice of ¼ fresh lemon, but the preserved lemon really works.
Cooking and Assembling:
The pasta dough has been resting while you make the pesto, so the next step is to roll it out.  You will find that if you flour the benchtop and keep flipping it, you can roll the dough out very fine without it sticking.  The finer the better.  If you go to the effort of rolling it out, then folding it into a block and rolling it out again, you get a denser, more al dente pasta.  But if you are going for quick and easy, rolling it out once is fine.
Sprinkle flour over the top of the rolled out dough, then roll it into a log.  Using a sharp knife, cut into noodles. You will find that if you have floured between the layers well enough, the noodles will separate nicely.
Cook the noodles in a pot of boiling water for about 2 to 3 minutes till they rise to the top.   Drain in a colander then return to the pot and stir through as much of the pesto as you like, more or less as you like it. ( The left over pesto will keep in the fridge for a week, and is wonderful on sandwiches or under a poached egg.) Serve hot with a grating of parmesan on top.