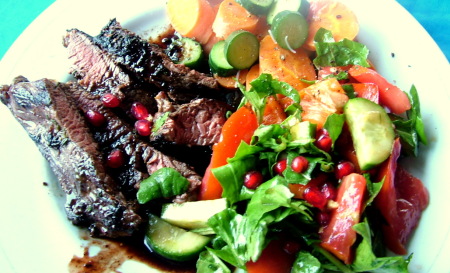 This is  dinner party fare, the kind of flavours you pull out of the hat to impress the Masterchef judges, if they should happen to call. The pomegranate sauce is the star. It tastes really good, and it doesn't so much mask the kangaroo as outshine it, so it is a good way to introduce kangaroo to your slightly less adventurous friends.
Finely chop two desertspoons of fresh rosemary. Sprinkle it over both sides of 4  kangaroo steaks (about 600 gm altogether) and press it in. Let them sit for a few minutes while you prepare the side dishes – salad and/or vegetables. They go particularly well with a rocket-based green salad, and new season boiled baby potatoes with a bit of butter and parsley.
Extract the juice from around 4 pomegranates, to get a cup of juice. The easiest way to do this is to halve pomegranates, scoop the seeds out, blend to break them up and them strain through a sieve.
Heat a little olive oil in a pan and sear the kangaroo steaks, then continue to cook for a few minutes each side until they are medium rare. Take them out of the pan and let them rest while you make the sauce.
Pour in the pomegranate juice, a couple of teaspoons of balsamic vinegar, a teaspoon of brown sugar, a pinch of salt, and a pinch of black pepper. Reduce until it is a nice sauce-like consistency.
Slice the kangaroo steaks diagonally, arrange on the plates and drizzle over the pomegranate sauce.