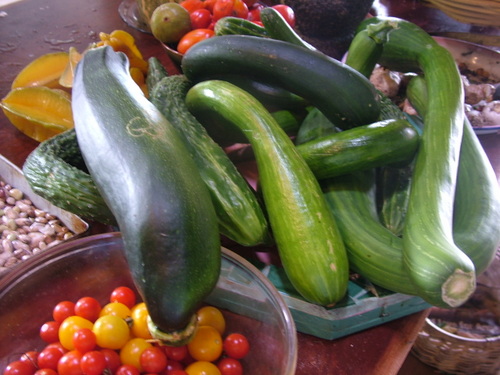 There is a Marge Piercy poem that I think perfectly sums up zucchini called Attack of the Squash People.  I think of it every year around this time.  I learned some time ago to plant just a couple of zucchini seeds at a time, but then I discovered tromboncino.
Tromboncino substitutes for zucchini in pretty well any recipe. I like it a bit better – the texture is a bit firmer and it doesn't have that edge of bitterness that larger zucchinis get.  But then, I like that bit of bitterness too, and bitterness in vegetables is often a sign of antioxidant phytochemicals that are very good for you.  Not always, alkaloids that do nasty things to your liver also taste bitter, which is probably why we omnivore humans have evolved to enjoy a bit of bitterness as adults, with full grown livers and a bit of education about what is safe to eat, but reject it as children.
Tromboncino fits better into my late summer garden. It is a rampant climber, like a very vigorous climbing cucumber in growth habits – a nifty trick that keeps it up off the ground conserving ground space and protecting it from mildew diseases.  It lasts a long time – I've had tromboncinos overwinter and bear right through into the next spring.  And if you think zucchini are prolific…
So this is my dilemma. A nice sequence of zucchini plants, so there is zucchini if I want it.  For rattatouille for instance, that I think needs that bitterness.  A nice range of tromboncino plants, so I can save seed without it being inbred.  And not too many of either. A Gordian Knot.
I give a lot away, I have an extensive repertoire of recipes, I feed overgrown ones to the chooks, and still the kitchen bench at almost any time has more zucchini and trombies on it than it needs. Ah summer.