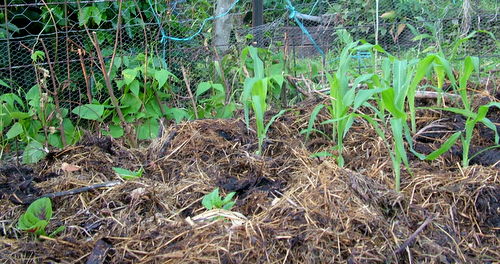 It is tipped to reach 41°C today. That's 106°F for those of you in USA. My garden will suffer. There is no way out of that. There's not much in the way of human food plants that are adapted to those kinds of temperatures. A day or two here or there, we can cope. But as it becomes the new normal, there's a limit to resilience.
I have been watching and feeling for those of you in the south who have endured catastrophic fire weather over the last days. I have a highly defensible house and many years experience in the local fire brigade, and I live in a community that up until recently would have trusted our ability to manage an emergency together. But our fire plan for catastrophic fire weather now is to not to be here.
Tackling the kind of bad habits and addictions that are disrupting the planet's climate is hard and scary. Change always is. But how many heat waves, firestorms, floods, tornados, cyclones, tidal surges, droughts, food shortages, and extinctions add up to harder? and more scary?
I wrote a post this time last year about Surviving the Frizzle Weather. This morning I will wet down the ground in the area where the chooks are, and make sure they have secure shade and water. At worst we'll get wind with the heat and any jury rigged shade would just blow off. There's not much more I can do, but birds have a higher body temperature than mammals, and feathers are good insulation both ways.
I've watered deeply over the last few days – we have better water storage these days – in other years I've just had to save the water for fire fighting and let the garden go. The garden is mulched deeply and planted with climbers with an eye to providing shade, especially from the west. I've not planted out any seedlings in the last week. The plants in the photo are the babiest in the garden and they are advanced and established enough to have a chance. I have another round of advanced seedlings in the shadehouse, ready to fill the gaps after this is over.
Stay safe everyone. It's now a cliche in these disaster prone days, but houses and gardens can be replaced