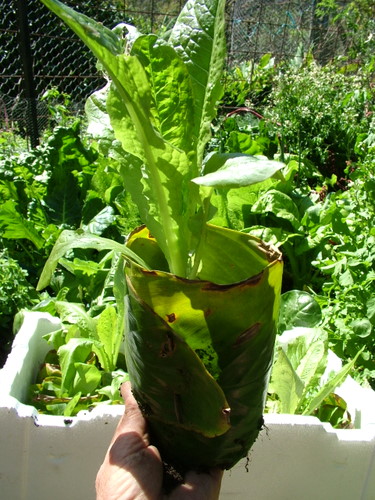 Those of you who have visited here before may recognise these.  They are the seedlings I potted on last leafy planting day, the seed that I planted the leafy planting day before, way back in mid winter. It is now eight weeks since the seed went in, seven weeks since they germinated.  In another three or four weeks, they will be ready to start harvesting.  So for more than half their life, they have not used up or needed any garden space.
They've been living very happily in a polystyrene box in the shadehouse.  They've had a cushy life so far. They've were potted up at the two leaf stage into a mix of compost and worm castings with a bit of creek sand for drainage.  They've been fed a couple of times with diluted seaweed brew, they haven't had to compete for light or space, and in the shadehouse, even if I'm in a mad rush I find time to water on my way out.
I shall plant these guys out today.  Where there is something that has finished bearing, I shall clear a little space just big enough for the mature plant. I shall dig a little hole and plant tube and all, then add a good layer of mulch around it.  It will get one good watering in, but from then on it will be pretty well on its own, unless we get no rain at all in which case I might put a sprinkler on for an hour or so in a couple of weeks.
Individually placed like this, it will be amongst neighbours with different root profiles and different nutrient requirements, so competition should be friendly.
Today I'm also going to pot up the tiny new babies from the seeds I planted last month, and plant a new batch of seeds.  Just a few of each – we eat a lot of salad but four or five loose leaf lettuces at a time is plenty. Getting a nice continuity of supply is one of the main secrets to eating very well out of a garden.
The seed I'm planting  now will be planted out into the garden in mid-November when we can expect to see some frizzle days, so I'm now planting only the hardiest of summer greens – amaranth, several kinds of basil,  endive, aragula,  purple oakleaf and green mignionette lettuces. By the time they are ready to plant out, the garden will be chokka with curcubits – zucchini, squash and cucumers, anyhow.