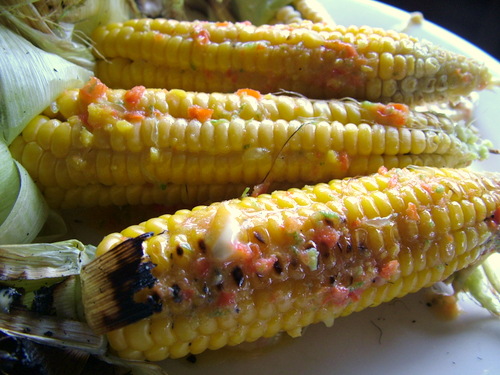 My glut crop this week is sweet corn – the last round of sweet corn for the year.  Sweet corn is one of the trickier crops for a home gardener.  What goes wrong?
It can fail to pollinate if there are too few plants in a block – the pollen from the flowers on one plant must fall onto the silks on a corn cob on a neighbouring plant for it to set seed.  Otherwise you get odd looking cobs with only a few kernels.  Warm dry weather at pollination time, and enough plants all bunched together to get a nice mist of pollen in the air is ideal.  But to have a serious block of corn plants close enough together to get good pollination takes a serious amount of soil nutrients (specially nitrogen) and water.  It is also a C4 plant, so one one of the few garden crops that can use all the sun you can give it.
The other problem with a serious block of corn plants is that you get a lot of sweet corn, all at once.  Luckily  corn on the cob is made for barbecues.
The Recipe:
Pick the corn as close as possible to eating time.  As soon as you pick it, it begins turning sugars into starch.
Soak the cobs, husk and all, in a sink or a bucket of water for a few minutes, just to get the husk wet all the way through.  Then put the cobs, in their husk, on a hot barbecue.  Cook, turning with tongs, for about 15 minutes till the outer layer of the husk is charred and the corn is hot all the way through.
Provide salt, pepper, butter, lime juice, and finely grated cheese for dressing.  My favourite dressing is Chili Lime Butter, below, and this is the only few weeks of the year when chilis, limes, and sweet corn are all in season together.
Chili Lime Butter
Blend together equal amounts of butter and olive oil.  Blend in chili, lime juice, lime zest, and salt to taste.  I like about one lime (juice and zest) and two medium chilis to each cup of butter-olive oil mix, but just keep adding and tasting till you get it to your taste.
[relatedPosts]