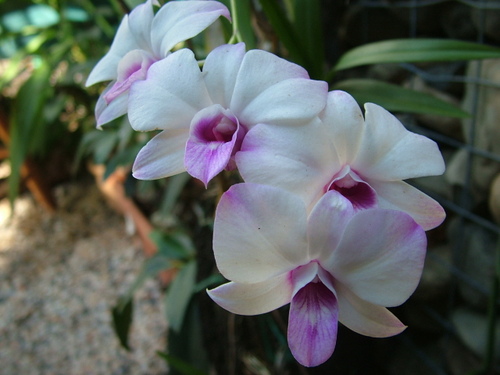 I so love having fresh flowers in my bathroom these days. My bathroom "Worth the 30 Years' Wait" has hanging baskets all around the edge, lilies along the side, and I've discovered orchids.   This orchid is right next to the shower-   I can admire it while I soap myself.  It is the forth orchid to flower this year, and so far my favourite with its delicate mauve centres.
I've never been huge on growing flowers before.  A nice fertile bit of soil and a choice of what to plant in it and an edible has nearly always won out.  I do like the beauty of many flowering edibles – they feed my native bees, attract predatory insects, and yield seeds for next year's planting.  Right now I have mustard with bright yellow flowers – great for salads and going to be brown mustard seeds for sprouting and for curries and for pickles.  I have the waxy white flowers of kailan, or swatow broccoli, again wonderful in salads.  I have the purple flowers of endive, going to be seed for next year but mostly just because. I have dill flowering with yellow umbrella heads, good for salads and seed as a spice, and for attracting predatory hoverflies, lacewings, wasps and ladybeetles.  I have Queen Anne's lace planted for the same purposes.  Soon there will be the lovely little blue flowers of Nigella that I grow for its peppery seeds for pickles and curries.  I would have nasturtiums for salads too but the wallabies found a hole in the fence again and they love nasturtiums even more than I do.
But flowers grown just for themselves are a rare thing for me and I'm discovering a whole new indulgence.
This river lily is growing under the towel hooks. Back when my mother was a girl, orchids and lilies in corsages were a gift for a special date.  It feels very luxuriant to have them all the time.