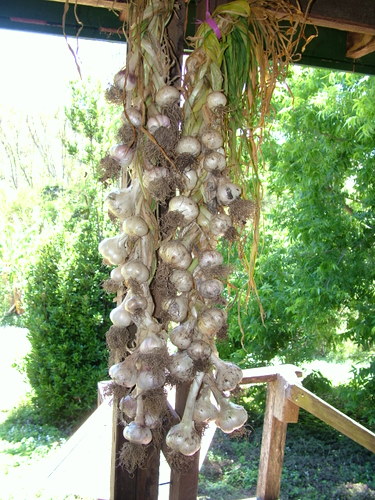 I've started bringing in the garlic.  It's a good crop this year, which I'm really pleased about.  I think, like a lot of gardeners, I was extra conscientious about planting this year.  I really really didn't want to end up buying Chinese garlic.  As well as all the usual concerns about what agricultural chemicals may have been used growing it, and the methyl bromide treatment demanded by Australian quarantine, there was the vague concern about how close China is to Japan, and garlic planting season was right after the tsunami and nuclear meltdown.
So I'm very pleased to have about 60 corms in, and another couple of patches left to harvest – about 100 corms all up, enough for a couple of corms a week for the whole year.
Getting them to last the whole year is the next challenge. With decent curing and storing, you can expect six months or so, but stringing it out for 12 months means being conscientious about this next bit too.
Rule Number 1: Grow Some Varieties that Store Well
Bit late for that now, but I planted some softneck varieties because they tend to store better, along with some hardnecks that grow larger and do better in my less-than-garlic-perfect Northern NSW climate. I'll use the hardnecks first and hope the softnecks store till next winter.
Rule Number 2: Treat Garlic Like Eggs
I read this somewhere and thought, what a good way to describe how gentle you have to be.  Fresh garlic bruises easily, and the bruising is an injury that will shorten it's storage life. We're used to thinking of it as a hard vegetable, but that's the already cured stuff.
Rule Number 3: Pick it at the Right Time
Hard not to get too impatient.  Garlic is in the ground so long, I keep wanting to pull the last of it.  Patience.  When a third of the leaves have yellowed. Not before.
Rule Number 4:  Pick it in the Right Weather
It is much easier to clean and dry it without damaging it if it is already dry and in dry soil.  Pick a nice dry day after a few days without rain or watering.
Rule Number 5: Don't Leave it Sit in the Sun
If you have a lot to pick, do it in batches and get it in out of the sun before it gets sunburned and stews.
Rule Number 6: Leave the leaves and Roots On
There's a temptation to neaten it all up, but it will cure best with the leaves and the roots on. Just brush off any clumpy dirt.
Rule Number 7: Hang in a Warm, Dry, Airy Place to Cure
Under my north side verandah roof is ideal – it gets a nice breeze and it's warm without getting hot enough to cook the garlic. Dark isn't important, and the fridge is a bad idea.  You want air to be able to circulate right around every clove, so the traditional braids are practical as well as beautiful.
Rule Number 8: Don't forget to Choose and Reserve the Best For Next Year's Planting
I'll buy some garlic to plant, and I'll plant some just because it has sprouted early.  But, like all plants, there is genetic variation. If I remember to choose the ones that have done really well in my climate and soil type I'll get a better yield than just buying new seed bred somewhere else every time.
If I follow all the rules, it should keep it should keep me in garlic right through the summer and autumn. But by the end of autumn next year, some are likely to start sprouting whatever I do. I'll plant the sprouting ones and use the garlic shoots and leaves instead.  That will reduce the yield of cloves, but keep me going with fresh garlic through winter and spring till the next harvest.
[relatedPosts]