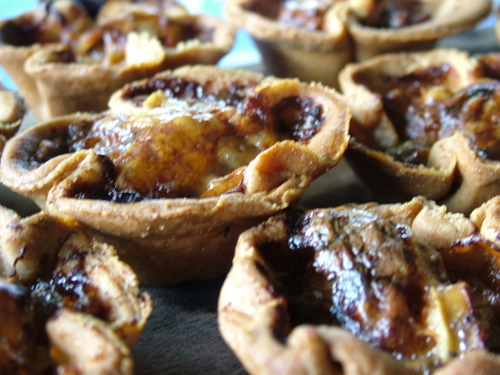 Perfect party finger food. The recipe makes about 20 tartlets.
The Pastry:
In the food processor, put
1½ cups of wholemeal plain flour,
3 dessertspoons of butter
pinch salt
Blend for a minute until it resembles breadcrumbs. Add just enough cold water to make a soft dough.  Add it  carefully, spoonful at a time.  Put your dough in the fridge to cool down while you start the onions off.
The Caramelised Onions
Finely slice 4 large onions.
Finely chop a tablespoon of fresh thyme
In a big, heavy bottomed pan, cook the onions and thyme over a low heat, stirring occasionally, with 50 grams of butter and the same amount of olive oil until they are soft and translucent.  The trick is to keep the heat low enough so that they don't brown.  It will take half an hour or so.
Add 70 ml (about 5 skinny tablespoons) of balsamic vinegar and 2 good tablespoons of brown sugar and continue cooking until the onions are covered in sticky syrup rather than liquid.
Assembling:
While the onions are cooking, roll out the pastry. Sprinkle flour on your benchtop and roll it out quite thin. Use a saucer to  cut 10 cm circles and put each in a cup of a greased muffin tray. The recipe makes about 20 tartlets, so you will need two trays (or two rounds of baking).
Put a dessertspoon of onions in each tart.
Top each with a little slice – a teaspoon size – of soft white cheese.  I used white castello for these, but brie or camembert or goat cheese or danish feta all work well too.
Bake in a medium oven for around 25 minutes until the pastry is golden and the cheese is melted through and golden on top.  Watch them at the end that the onion doesn't burn.
Best served cold as a canape.
[relatedPosts]