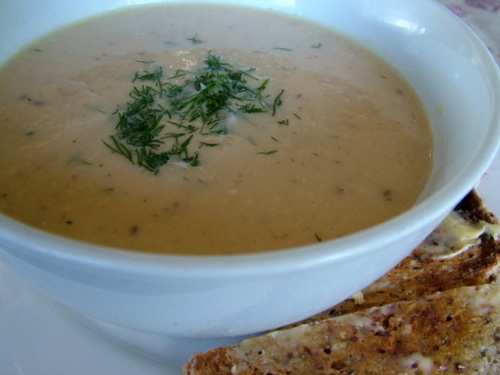 Second of the cauliflower season Tuesday Night Vego Challenge recipes. It's an oldie but a goodie.  This is a fairly low fat, low GI version of the ultimate cold winter night comfort food. I like cauliflower cheese soup kept very simple, and I find adding potato tends to make it gluggy, so this version has no potato and low fat cottage cheese.
The Recipe:
For two adult dinner serves.
Gently sauté an onion in a little olive oil in a large, heavy pot with a tight fitting lid, or a pressure cooker.
As it softens, add
3 cloves of garlic, finely chopped,
½ teaspoon cumin seeds
½ teaspoon dill seeds
grating of black pepper
As soon as the seeds start popping, add ½ cauliflower, stems and all, chopped into flowerettes, along with 2 cups of vegetable stock. If your stock is homemade, you may like to add a pinch of salt too, depending on how salty you make your stock.
Simmer for around 15 minutes or pressure cook for 5, until the cauliflower is quite soft, then add
 ½ cup of low fat milk.
 ½ cup of low fat cottage cheese
 ½ cup of grated tasty cheese 
Blend until it is very smooth.  I find my stick blender the best tool for this, but you could use a food processor or even pass it through a mouli or sieve.  I like cauliflower soup very smooth.
Put it back on the heat and bring it back up to temperature, stirring all the time and not boiling. If you boil it at this stage it will curdle, and if you don't stir, it will stick.  It just needs to be brought back up to eating temperature. Taste and add salt if needed.
Serve with a sprinkle of chopped dill as garnish and some good wholegrain toast for dipping.
[relatedPosts]