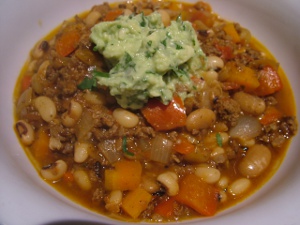 Sadly this isn't one of my better examples of photography! I've been waiting all year to post this recipe.  Chili con Kanga is good on its own, but this time of year there is a little window of time when avocados, limes and coriander are all in season together, and the salsa with it makes it sensational.
I always make a great big pot of this when I make it, and we have it for dinners and lunches several times.  It will serve six or eight people for dinner easily, or you can freeze it or keep it in the fridge for several meals.  Or, you can halve the recipe.
Less red meat and more vegetables is a good idea, for health, environment, and hip pocket reasons.  And less factory farmed meat and more wild harvested, free range, organic meat is a good idea for the same reasons.  This combines both.
The Recipe:
Cook 400 grams dry beans till they are soft.  I soak them first and use a pressure cooker so they cook quickly.  The post about Bean Basics has my basic bean cooking method.  I don't think it matters what kind.  They all add a different character to the dish, but they all seem to be good in their own way.
Brown 1 kg kangaroo mince in a little olive oil in a heavy pan.
In a big pot, saute together:
4 onions (chopped)
6 garlic (chopped)
6 chilis (more or less, depending on how hot the chilis are and how hot you like it)
3 teaspoons cumin seeds
2 teaspoons smoky paprika
1 capsicum (chopped)
6 carrots (chopped)
Add the browned kangaroo mince and the beans, along with:
1 heaped tablespoon chopped fresh oregano (or a good teaspoon of dried)
5 fresh bay leaves
1 kilogram chopped tomatoes  (or a big jar of passata)
2 big tablespoons tomato paste (leave out if you use passata)
1 dessertspoon treacle (or brown sugar)
2 cups of water
a good grinding of black pepper, and salt to taste
Simmer for half an hour or so until it reaches the right consistency.
Avocado, Lime and Coriander Salsa
Mash together:
An avocado
Juice of a lime
a big handful of coriander leaves, chopped fine
salt to taste
Serve the chili in bowls topped with a good dollop of avocado salsa, and, if you like, some warm tortillas to mop up with.
[relatedPosts]