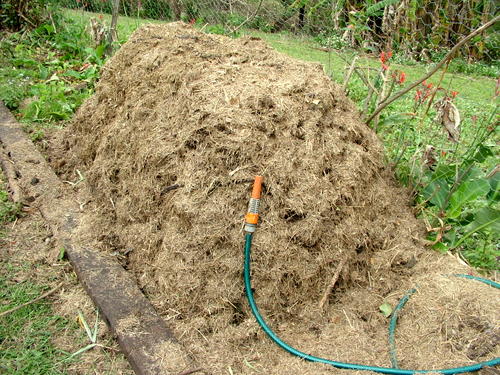 The first compost pile of the season, and it's a good one.  It's a lasagna pile with nice thin layers, with mulch from the Mulch Mountain every second layer.
It only took me an hour to build, but only because I have been routinely on the lookout for the ingredients, bringing home a bag of horse manure whenever my neighbour puts some out on the roadside for sale ($3 a bag), collecting a bucket of cow manure whenever I see cows out on the road reserve on my way home (I keep a bucket and shovel in the car for just this chance), collecting seaweed at the beach, cultivating the herbs and weeds I know are micronutrient accumulators, and lately making my morning walk  over to a neighbour's dam to collect a barrow of azolla.  They all took time, but it was kind of incidental time.
The major ingredient was the mulch, and there's about an hour's worth of mowing in the pile.  But you could almost call it "incidental time" too, a byproduct of my Mowing Meditation.
It goes:
Layer of mulch, then layer of horse manure
Layer of mulch then one of azolla
Layer of mulch then one of cow manure
Layer of mulch then one of green herbs and micronutrient accumulators (including nettles),
the whole lot wet down with the last of the Seaweed Brew, diluted 1:20.
I will turn it twice, next weekend and the weekend after, wetting it down again, breaking up any clumps, moving the outside to the inside and introducing more oxygen. It will take about an hour's work with a pitchfork each time.  But it's a good investment.  This pile will keep the shadehouse and planting out going all summer.  I'll build another one in autumn to keep me going for the winter.  That, and the sheet mulching done by the chooks is most of my garden work done and dusted.
I am using it to clear a new bed along a fence, hoping to cover the fence with a perennial climber like Scarlet Runner Beans, or maybe passionfruit. But first I need to get rid of the cannas and the stinging nettle and the nut grass along the fence. A  good compost pile will get hot enough to kill everything under it.  As I turn the pile along the fenceline, I'll cover where it was with a good thick layer of mulch and plant my seedlings into it (in little wire cages to prevent the bandicoots digging them straight back up again every night).
Happiness is a good compost pile.
[relatedPosts]