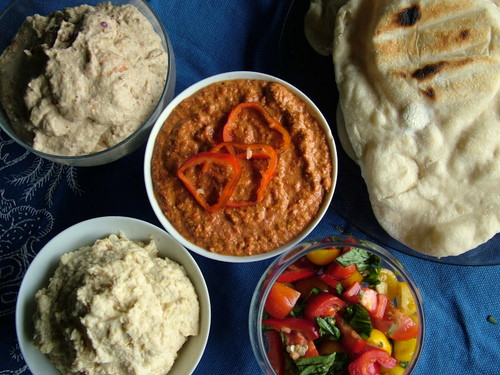 And why not?
Just because they look like party food doesn't mean they can't be really healthy, low fat, midweek dinner food. And I love the social aspect of all just sitting round the table sharing one platter, rather than individual plates. Everyone has their own favourites. Conversation flows. It's nice.
Half an hour? OK, well, I cheated.   I made the sourdough pita on the weekend and just freshened it up by wrapping in a clean moist tea towel and steaming in the oven for a few minutes.  And though it came together in half an hour at the end, but there was a bit of pre-thinking in it, so it fits the Tuesday Night Vego Challenge rules only with a (fair) bit of creative license!
Charring the Eggplant and Capsicum
The main part of this meal is charring the eggplant and capsicum.  I do this sometimes directly over the flame on my gas oven: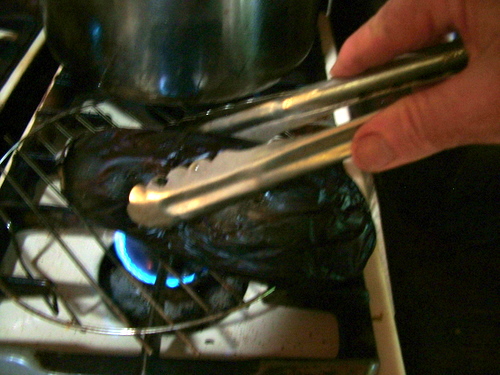 But it is nicer, faster and easier over the wood fired Japanese Hibachi.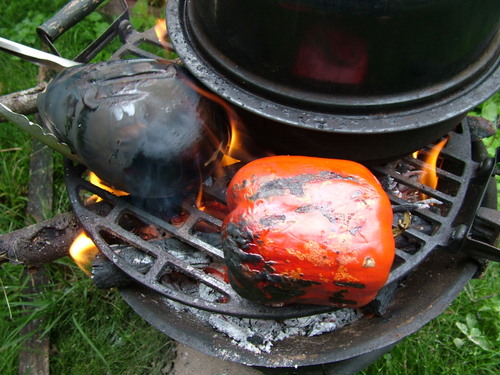 Whichever way, the aim is a large eggplant and a large capsicum (or equivalent smaller ones) and three or four cloves of garlic with blackened, charred skin.
Put them straight away into a container with a lid and allow to cool in their own steam until cool enough to handle.
Then gently peel off the blackened skin.  You needn't stress about getting every little bit – a bit left on doesn't hurt – it adds to the flavour.  But you want to remove most.
This is the only really laborious part of the whole dinner, and the charring does totally change the flavours, making them sweet and complex and  delicious.
Babaganoush
Blend together:
1 eggplant, roasted and skinned
a clove of roasted skinned garlic
3 dsp tahini
50 ml lemon juice
salt to taste
Roasted Capsicum and Macadamia Dip
Blend together:
1 large capsicum, roasted and skinned
1 skinned tomato (dunk in boiling water and the skin will come off easily)
a clove of roasted skinned garlic
¹/3 cup macadamia kernels (or substitute whatever nut is in season in your part of the world)
a little swig of olive oil
salt to taste
Hummus
This is basically the same recipe I posted for pea hummus a few months ago, but using chick peas (garbanzos) instead of peas.  I put the peas on to soak overnight, pressure cooked them for 15 minutes in the morning, turned them off just before I left for work, and left them in the closed pressure cooker for the day.  Then it was just a matter of blending:
1 cup of cooked chick peas (garbanzos)
good pinch of salt
1 clove of garlic
50 ml lemon juice (juice of half a lemon)
2 big dessertspoons tahini
enough water to make a smooth dip consistency
I served the three dips with a little tomato and basil salad and pita bread.
[relatedPosts]