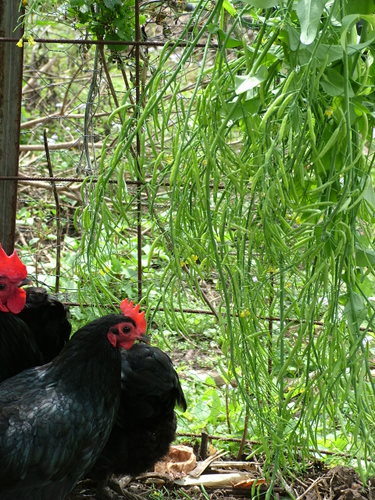 Chooks are such a good way to double the harvest.  These bok choy were self sown and if I'd been pressed for space I would have fed them to the chooks as greens much earlier.  We ate a few leaves, but then since I had nothing desperately needing the spot I let them go to seed – which they did very happily, producing lots and lots of seed (which is why I had self sown bok choy in the first place).
I have hung these upside down in with the chooks, and it is wonderful to watch their enjoyment.  A plant a day, along with our household scraps is providing them with all their feed and I don't have to go to the produce store.  And in return, they will give me eggs with very golden beta carotened yolks.
I also aim to give them a barrow load of mulch or weeds or horse manure or azolla  most days, and if I can keep up that rate of organic matter for a month, the chooks scratch it in with their own poo and turn it into compost for me.
 My garden beds these days are fortress fenced against the wildlife – bandicoots, bush turkeys and possums being the most demanding of serious fencing. It does impose limitations – one of these days I'll get around to a post about the inherent challenges in reconciling love of wildlife with serious scale food production. But it also has benefits – ready made trellising for one, and ready made chook fencing for another.
The ready made chook fencing is wonderful. If you keep chooks fenced in, they quickly denude their run, and diseases and parasites start to build up.  And you can't go away even overnight without chook sitters. But if I let them free range, they do enormous damage to any garden they can get at, and they are vulnerable to foxes, goannas, and eagles even in the daytime. Being able to rotate them around fenced garden beds means I can keep them on new ground, with access to greens and enough space to be happy and safe.  The roost design means they can put themselves to bed, safe from carpet snakes, foxes, quolls, powerful owls and other night hunters, and if we don't come home till late, or even if we go away for a day or two, they're fine.
About once a month I move the chooks into a new garden bed, and then they can feed themselves for a week or so, cleaning up all the spent plants, scratching for insects, and clearing weeds.  Moving them is as simple as moving their carpet-snake-fox-and-quoll-proof roost to a new bed, along with their water bucket and mower catcher laying box, and a tarp that gives them a bit of extra shade and rain protection. Every bed is fully fenced anyway, and they all now have a metre length of galvanised pipe   donged in the centre of the bed, standing about 40 cm out of the ground, into which the roost just slots.
My timing is never perfect – I won't plant anything new in the next two beds the chooks are going into, and only quick maturing things into the one after that, but there are always a few stragglers.  I have a bed they will move into next that has had spuds and broad beans and peas and carrots and beets, now all harvested, and broccoli, brussels sprouts and cabbages all gone to seed and cabbage moth caterpillar ridden, and overmature silver beet attracting grasshoppers, and some gone-to-seed rocket and amaranth – all of which the chooks will relish. But it has some spring onions and leeks that I'll be picking a bit younger than I would otherwise, a chili bush that the chooks will probably denude, and a whole lot of self seeded mizuna that we've been eating. But I just factor in a bit of crop sacrifice to the system, and they more than make up for it with the yield from a bed after they've had a month cleaning, manuring, and sheet composting it.
It's a system that's working well at the moment – I'm very happy that it's already half way through summer and the new roost design is still keeping them safe. I'm daring to believe I've reached a new plateau in the co-evolution of a system that feeds snakes, eagles, quolls, bandicoots, bush turkeys and humans all at once.
[relatedPosts]