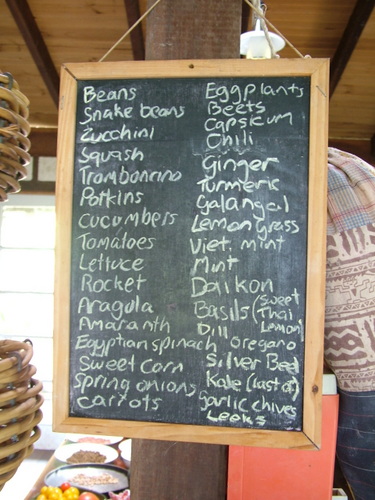 In my kitchen is a blackboard list of what is harvestable in the garden.  I have a wonderful partner who does a lot of the cooking in our household but the garden is foreign lands to him.  So I had the brainwave of writing a list of what is in the "outdoor pantry" right now. Dumb idea.  He is never going to plough through that lot when he's thinking about what to cook. But it does look impressive all written down doesn't it.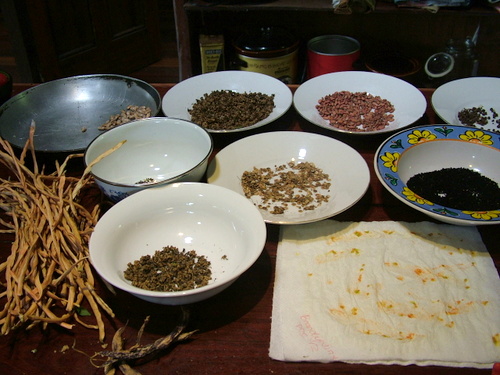 In my kitchen I have bowls of seeds drying, taking up half my bench space.  Thankfully it's good drying weather so they shouldn't be there long.  Usually I dry seeds on the verandah but a brazen bush turkey has taken to coming up to check what is on the verandah table every day, clumping through breaking bowls and spilling things and pooing everywhere.  There's snake beans and rattlesnake beans, for planting and for storing as dried beans.  There's  nigella and dill for spices and for planting.  There's lucullus (Italian silverbeet) and parsnips for planting.  There's some seeds of the Brandywine tomatoes that have done so well this year and a good buttercrunch lettuce that was slow to bolt and has hung on till now to go to seed.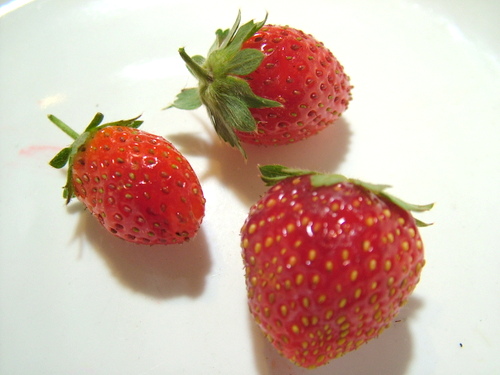 In my kitchen are three gorgeous strawberries, getting close to the last of them.  I really should share them, shouldn't I.  Hmm….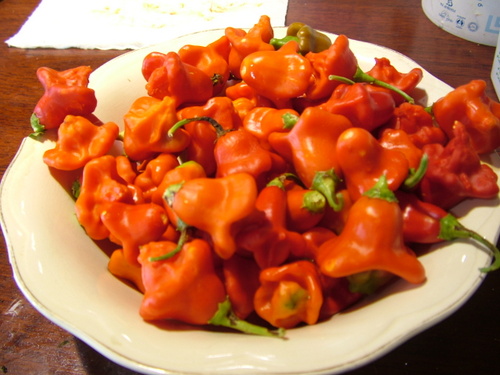 In my kitchen is a bowl of Bishops Crown chillies, the first big harvest of chillies for the season.  I was thinking to pickle them, but the weather report is predicting some stinking hot days over the next few days, so I might take advantage of the weather to dry these to make chili powder.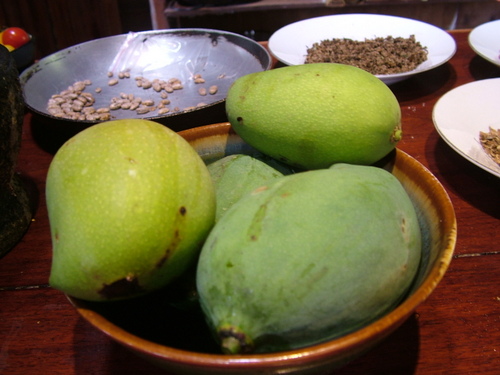 In my kitchen are the very first of the season's mangoes.  This variety is ripe when the skin is still green, but these aren't quite ripe yet.  I'm thinking a Thai style green mango salad with Thai basil, red onion, and a lime cordial and fish sauce dressing.  If I get it just right I'll post the recipe.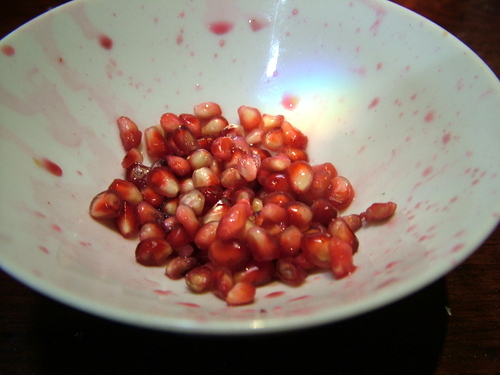 In my kitchen is the first of the season's pomegranates, a small one I picked really just to see if they are ready yet.  They will be better in a week or two, but there will be so many over the next month, we might start on them now. Pomegranates are hugely healthy and really underappreciated in Australia, and if I ever see them in the supermarket, they seem to be so expensive I feel very lucky having quantities of them.  They are spectacular in salads, little pops of tart sweetness.  And they make wonderful Middle Eastern style dips with eggplant or capsicum.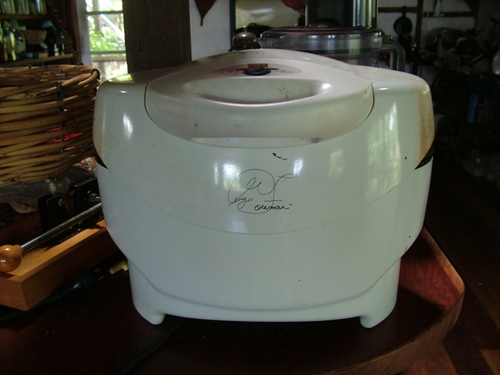 In my kitchen is an op-shop scored George Foreman oven, I think late 1980's/early 1990's vintage.  I'm using it to bake my sourdough these days. I am still figuring out how to use all the power we are making now with last year's new solar panels. A friend showed me her electricity bill, and I felt very happy with our decision to go off-grid, stand-alone solar.  It does mean that we need to actually be mindful about electricity and frugal with it in overcast weather, and have energy efficient set up so we can be frugal (LED lights, small efficient fridge, small screen LED TV, laptop).  But in sunny weather we just can't use it all, even charging a hybrid car. So I'm experimenting with moving more and more of my cooking away from gas and over to free electricity.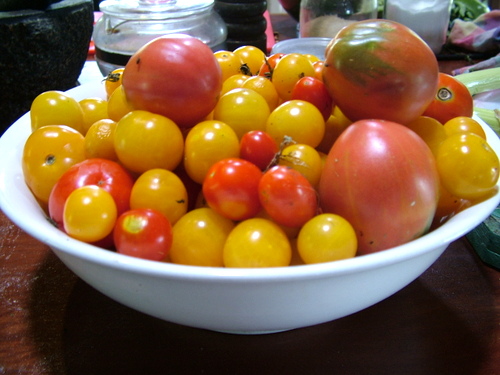 And finally, in my kitchen is a big bowl of tomatoes. I'm picking a bowl like this a day at the moment.  The Yugoslavs are so good. I wish I could figure out why some years they get fruit fly, and some years they don't, but this is a lucky year.
It's such fun stickybeaking in others'  kitchens.  Head over to Fig Jam and Lime Cordial for the list.