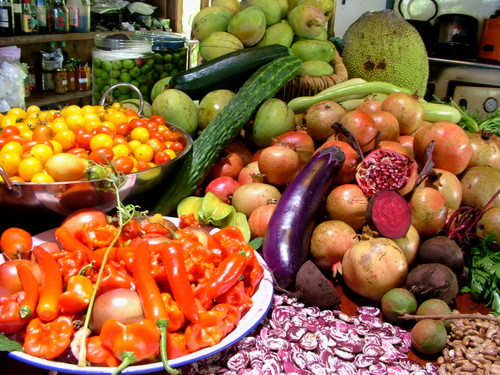 My pickings today loaded up my kitchen bench.  Mangoes are biennial, and this is a mango year, so I've been making smoothies and cakes and pickles and chutney and sorbet, and giving lots away.  The spring this year was wet enough for the pomegranates to fruit well – often our springs are too dry – and the tamarillos are all ripening at once.  I'm back to growing enough tomatoes to bottle some, the snake beans and green and purple and Madagascar beans are all bearing enough for both eating green and letting mature for the bean jars, and the  chilis and capsicums have all started to ripen at once.  The tromboncino dropped fruit in the heat wave early in the new year, but the rain since has brought them all back into glut again, and the Suyo Long cucumbers are bearing well enough to become a favourite variety.  I'm making pesto from sweet basil, and I have lots of lemon, lime and Thai basil too. Feels like such luxury to have such glorious abundance. Now I just need to decide how to deal with it all!
As well as all the glut crops, we are picking the first of the figs, passionfruit, and carambolas and the last of the paw paws, and the occasional Jackfruit (which can make a glut just with one fruit).  Our peaches are finished, but stonefruit are still well in season in many places.  The geese have decided they like eating banana palms, which would be an issue except that the wild brush turkeys have been getting all the  bananas for years. If we were shorter on fruit I'd need to do something about that, but I've run out of good ideas to try.  I figure I'm just fattening up the brush turkeys as security in case of real famine times!
I still have a few zucchinis planted and bearing but the tromboncinos are good competition for them.  The yellow button squash make a nice change sometimes.  The next patch of  sweet corn is just about ready. We're between pumpkins – the potkins are finished and the Japs about to come on. I've had better success with eggplants this year than usual.  There's the usual carrots and beets, and as usual the greens are scarce this time of year.
My ginger and turmeric love the heat and rain this time of year.  I have both as perennial plots – I just dig some when I want it – but this time of year the plants are growing like crazy.
So this is the harvest around which I base my cooking this time of year.  I'd love to hear what's harvesting in other places.
[relatedPosts]