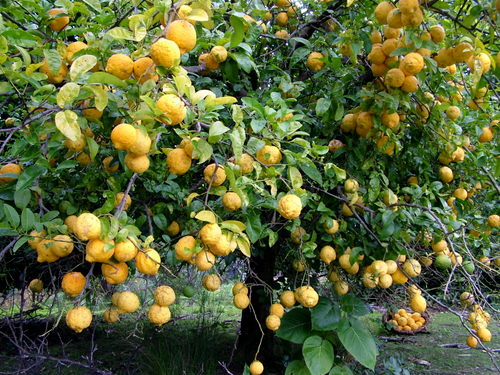 We have a few lemon trees, but my two favourites are the Eureka because it has lemons on it all year round, and this bush lemon propagated from a seed that came up from compost.
This time of year it is laden, every year.  It's a stunning yield.  In a month or so, the cockatoos will, responding to some signal that is completely invisible to me, descend on it and almost overnight they'll all be gone.  I don't know how they decide they are ripe enough – to me they taste perfectly lemon-ly sweet now.
They're a bit like a Meyer lemon, sweeter than some of the very tart varieties.  They have a thick skin and the tree is very very thorny, but the lemons are gorgeous for juice, for preserved lemons, for baking and cooking.
Today it is cold and wet.  I have the fire going and on this Queen's Birthday holiday I'm bottling Preserved Lemons, making Chilli Jam with the last of the chilis, making some Cordial (not so much for drinking, but for sauces and dressings), making a batch of Lemon Polenta Steamed Muffins for morning tea for a weeding work bee group, and making a batch of lemon in rubbing alcohol for mosquito repellent, and for rubbing on muscle aches (just whole lemons, in a jar of alcohol for a few weeks till the oils in the peel dissolve into the alcohol), and a batch of lemon in cleaning vinegar for shower, sink and floor washing (just whole lemons, in a big jar of vinegar, again until the skins go pale as the oils dissolve into the vinegar).
And still, you can't see where the lemons have been picked.
[relatedPosts]