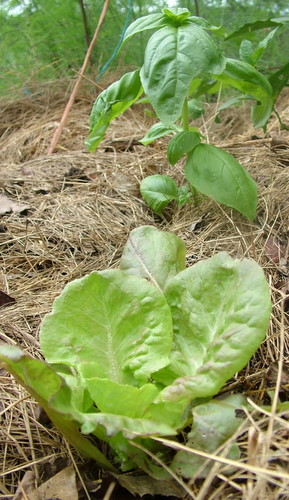 After the heat waves of the last couple of weeks, today is cool and overcast. The soil is moist from good rain over the last few days and it's a leafy planting day by the lunar calendar. It's past Lammas so the days are shortening fast now, telling potential bolters that winter is coming so going to seed now is a bad idea, and the best strategy is to store food to last through to spring.  And I have nice heavily mulched beds as a result of all the good mowing weather, some lovely mature compost, and a good stock of creek sand for making potting mix.  You couldn't get a happier day for planting leafy greens!
The advanced seedlings strategy has allowed me to hold seedlings waiting for exactly these conditions.  Last leafy planting break, in the frizzle weather, I potted on all the seedlings I had in the shadehouse into individual pots and held them in the shade where I could keep water up to them.  I have seedlings that are now a month old, that would have died within days had I planted them any time in the last month. We may still get killer conditions over the next few weeks – I won't plant all the leafy greens in my shadehouse. I always raise about a third more than I intend to plant out anyhow. So I will have a reserve  if we have a sudden heat wave or hail storm. But today is so nice, it's most likely the reserves will be given away or recycled in a couple of weeks.
I'm planting out advanced seedlings of several kinds of lettuce,  leeks,  parsley, dill, basil and lemon basil, coriander,  rocket, aragula, amaranth, and Perpetual Green silverbeet . My celery seedlings are too small yet – celery are slow to germinate and slow to get going, and they really hate drying out, so I shall pot them on and hold for next month.
I'm also planting seed of  all the above except for the basils – I have enough of them now to last through to the end of the season – plus mizuna, endive, and Fordhook Giant and Italian silver beet.  I shall even give some cabbages, kale, and chinese cabbages a start – not too many – they're this month's long shot. It is likely that the cabbage moths will still be too voracious to get a good crop from them this early. But every year is a little different, so it's worth planting out a couple just to see how they go.
The only leafies I can think of that I'll leave out are English spinach – this far north it needs to be planted in the coldest conditions I can find – and broccoli – not worth fighting the cabbage moths for yet. My brussels sprouts are 10 cm tall but I shall hold them in the shadehouse as long as possible – they're very marginal this far north.
I love the awareness of seasons that you get with gardening.  I am cooking with tomatoes and capsicum and zucchinis, but today has brought it home to me that summer is ending and the job of re-bricking the wood stove, that I put off till summer, can't be put off much longer.
[relatedPosts]