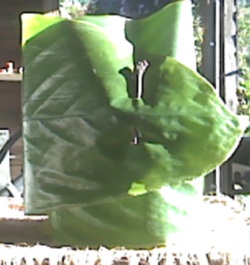 It's hard to imagine now, but by the time these babies go out into the garden, we will be into what is normally the hot, dry, windy weather of spring.  From now on, I will have to be conservative about the leafy greens I plant.  I have to choose varieties that will cope, and give them a really nice life if I want to harvest anything worth eating.
For years I used to use tubes cut from two litre plastic milk containers to raise up seedlings, and then to give them a little bit of protection when they were first planted out.  However the last little while I have been experimenting with biodegradable planting tubes.  I started with newspaper tubes, then went on to banana palm trunks, and today I went out intending to cut a new lot and plant into them.  On the way out I passed a big clump of some broad leaved decorative plant – I don't even know what it is called – near my back door, and decided it needed some heavy cutting back, and that led me to this little experiment that I'm liking a lot.
I just rolled the leaves around my hand to create a tube – same technique as the newspaper and banana bark – then secured them with a twig.  Twelve little tubes fit nicely in a polystyrene box.  Half filled with a mixture of creek sand and compost, they make perfect planting tubes.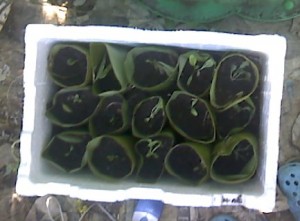 The only leafies I'm gambling on at the moment are amaranth, basil, lime basil, Thai basil,  endive, aragula, Italian (lucullus) silverbeet, purple oakleaf and green mignionette lettuces.  Too late for anything in the Brassica family – I would just spend all spring chasing cabbage moths, and they would bolt to seed anyway.  I have lots of parsley in already and I'm hoping it will hang in for a while before seeding.  Too late for celery here – I would be spending all my water on it.
But that's a nice selection for summer salads, with the tomatoes and cucumber and capsicum I'll be planting next week.
I shall keep this box in the shadehouse for a few weeks – probably until next leafy planting day, till the seedlings are well advanced.  That way I can keep the water and nutrients up to them with feedings of seaweed brew and worm pee tea.  When it comes time to plant them out, I shall be able to lift a tube out and the roots will hold it all together.  I shall dig a little hole and put the whole lot in.  The tube will rot away in a short time, but will help convince the seedling that going down is the idea for its roots, which will give it some resilience on those hot days when the surface will dry out no matter how much water I try to put on it.  Half filling the tubes also means each seedling will start life with its own private little windbreak, which may come in handy on those September and October days we sometimes get with howling northerlies.