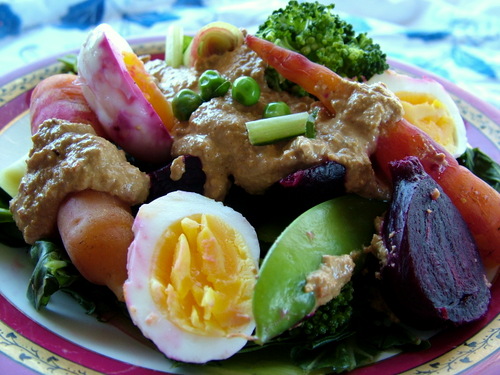 I've been waiting for this Tuesday Night Vego Challenge moment. I made it this time last year intending to post the recipe, but I was never quite happy enough with it to post it. This time though, I've think I've nailed a satay sauce based on macadamias and with no coconut milk.  So much so that we've gone for it several days in a row. Canned coconut milk is not a local ingredient for me, and I avoid canned foods as much as I can, both because the resource costs of canning are silly, and because I don't trust the BPA in can linings.  Macadamias though are local.  Peanuts would be too, but macas are easier for me to grow.
The sweet spot where all the ingredients line up in season together for me is late winter/early spring, when the macadamias are just finishing but the egg glut is just starting,  there are lots of sweet baby vegies perfect for steaming, and the weather starts to feel like salad days again.
This one has so many superfoods in it that I'm not even going to list them. And probably in a pretty perfect balance too.
The Recipe:
For two adult serves.
Part One: The Vegies
Part one is just a salad of lightly steamed spring vegies with optional extras like boiled eggs.
If you are good at multitasking, you can juggle this at the same time as making the satay sauce that is the real star of the dish.
I put some baby beets on first in the pressure cooker, cooked them for a couple of minutes,
then let the pressure off and added some whole baby carrots and halved baby leeks, cooked them for a couple of minutes,
then let the pressure off and added peas, snow peas, broccoli, chinese cabbage and a couple of stalks of asparagus,
brought that up to pressure, turned it off and let it sit while the rest came together.
At the same time, I put two of our little bantam eggs for each of us on to boil.  I tried to choose the oldest of them so they would be easier to peel.
Part 2: The Satay Sauce
Dry roast half a cup of roughly chopped macadamias in a heavy frypan for just a couple of minutes till they start to turn light gold.
Tip them into a mortar and pestle and grind to a paste. (A food processor just doesn't do it – they need to be ground. It only takes a couple of minutes with a mortar and pestle though.)
Add a little oil to the fry pan and sauté together:
1 onion, chopped
4 or 5 cloves of garlic, roughly chopped
a marble sized knob of fresh ginger, chopped fine
a marble sized knob of fresh turmeric, chopped fine (or substitute a half a teaspoon of powder)
one chili (more or less, depending on how hot your chilis are and how spicy you like your food.
As soon as the onion is translucent, tip all this in with the macadamia paste and blend together.  I can use my stick blender directly in the bowl of the mortar and pestle, but you use what you have.
Add:
Juice of a lime (or you can substitute  about 30 ml lemon juice)
a scant teaspoon of soy sauce
enough water to make a smooth sauce (about 4 tablespoons)
Taste and adjust the lime and soy to taste.  You may like to add a tiny pinch of brown sugar, or not – I don't add sugar – the macas make it quite sweet enough for me.
Assembling
Peel and halve the eggs and the beets.  Arrange the vegetables on serving plates and smother in the sauce.  Serve any leftover sauce on the side.
[relatedPosts]