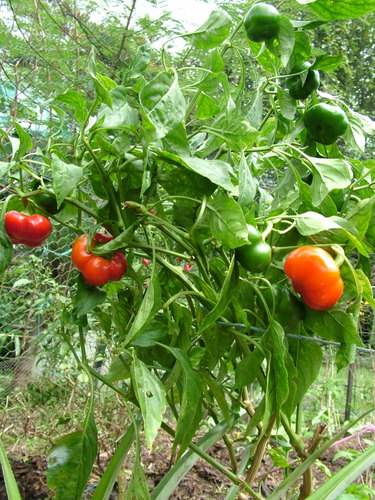 These are my favourite capsicums these days. I call them supermarket flats, just because the seed originally came from some capsicums I bought in the supermarket. I picked them up hoping they might be non-hybrid and got lucky. I think they are actually Baby Reds, and they are doing brilliantly for me – a sweet, crunchy, thick walled, fruit fly resistant, small capsicum that bears well and long.
So for this week's   Tuesday Night Vego Challenge, I stuffed them with a current-sweetened, nutty couscous pilaf and baked for just 20 minutes in a fairly hot oven and they were gorgeous.  The concept should work with other kinds of capsicums too.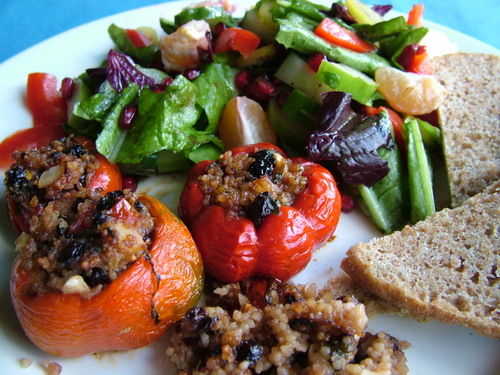 The Recipe:
Turn the oven on to heat up.  You need a fairly hot oven.
To stuff 6 of these little capsicums:
Sauté
one small onion, finely chopped
2 cloves of garlic
¹/3 cup chopped macadamias
As soon as they start to colour, add
a good handful of currants
8 or so cherry tomatoes
¹/3 cup  couscous
a pinch of salt
¹/3 cup water
Turn the heat right down and cook for a minute or so until the couscous is softened.
Add a good handful of chopped mint. (Be generous)
With the point of a sharp knife, cut around the stem of the capsicums, pull out the core, and use a teaspoon to remove the seeds.  Teaspoon the stuffing mix into the capsicums to fill them right up. Place on an oiled baking tray, and bake in a medium hot oven for around 20 minutes till the capsicums are softened.
Did you do the   Tuesday Night Vego Challenge this week?  Links are welcome.
[relatedPosts]