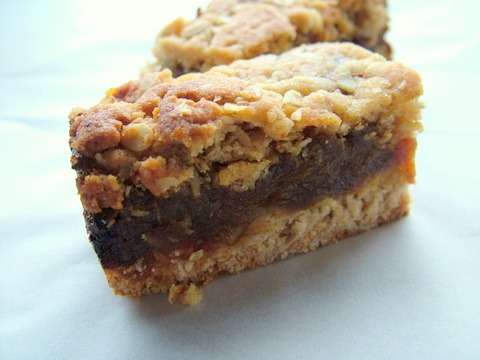 Number 23 in the Muesli Bar Challenge – my weekly series of  recipes for school lunch box baking  that is healthy, easy, cheap and based on fresh produce – features oranges.  It is coming to the end of the navel orange season, and once they finish there will be a gap of a few months until the beginning of the Valencia  season.  Our navel tree is flowering again already, so I'm picking the last of them to allow the tree to put all its energy into the next season's fruit.
Oranges are super healthy.  Besides being well known as a good source of Vitamin C, they are also a good source of folic acid, which is especially important for growing kids.  This recipe also features oats which are another superfood – low calorie, fairly low GI,  good amounts of B vitamins and several minerals, and protective against deposits of bad cholesterol – and dates, which supply a huge range of vitamins and minerals.
Let's see what my school age reviewers think of them.
The Recipe
The Filling
In a small saucepan, mix
2 cups of dates
1 cup of fresh orange juice and pulp
Bring it up to the boil then turn it off and allow to soak while you make the crust.
The Crust
Into your food processor, put
1½ cups of wholemeal plain flour
1½ cups of rolled oats
½ teaspoon of baking powder
1 good teaspoon of grated orange rind
100 ml of honey
100 ml of macadamia oil, or other mild flavoured oil
Pulse briefly to partly cut up the oats and mix thoroughly.
Assembling
Grease a 20 cm square baking pan and press half the crust into it.
Process the filling briefly to break up the dates and make a spreadable mix.  Spread over the base.
Cover with the rest of the crust and press it down.
Bake in a moderate oven for about half an hour until browned.
Cool in the tin, then cut into squares or fingers.