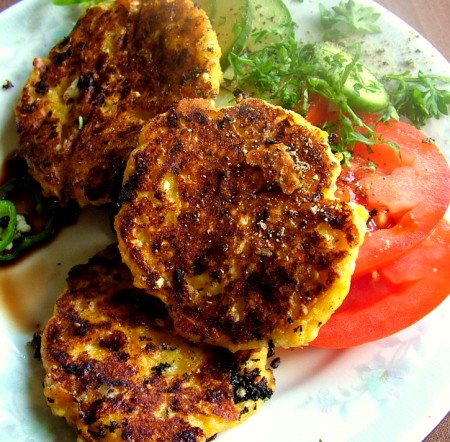 You can tell we're heading towards the southern hemisphere Halloween – we have pumpkins in such abundance that you can see where the idea of cutting faces in them came from!  But still, there are a lot of ways to make use of a glut of pumpkins.  Most foods with that bright orange colour are super-good-for-you – loaded with  beta -carotenes that help protect against a whole range of chronic diseases.  Pumpkins are also a good source of fibre and lots of vitamins and minerals.
This recipe is simple, fast, cheap, tasty, healthy, and best not over-elaborated.
The recipe:
Mix two parts of grated *raw* pumpkin with one part grated low fat tasty cheese.  Mix in an egg and a dessertspoon of plain wholemeal flour for every couple of cupfuls of mixture. Add salt and pepper and fry spoonfuls of the mixture in olive oil until crisp and golden.
[relatedPosts]