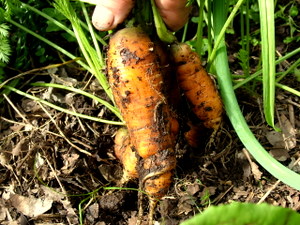 This is the May-June carrots.  They were planted as seed back in January.  We had these for lunch in a tofu, noodles and Asian greens stir fry, and they were yum.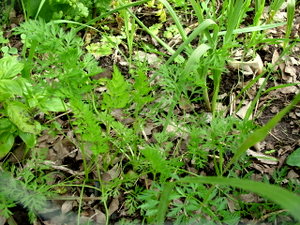 This is the June – July carrots.  They were planted as seed back in February.  They're pretty well right for now.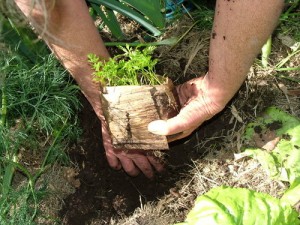 This is the July – August carrots. I have a dozen tubes of them ready to be planted out today. They were planted as seed back in March, so it is actually two months now since sowing.  Carrots are slow to start but they'll take off now.  I shall dig a little hole and plant the group as one in it, bottomless tube and all.  Any excess fertilizing would just make them go all to leaf and no root, so they get no compost and I  prefer spots where a heavy nitrogen feeder like a leafy green has come out.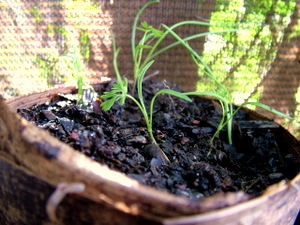 This is the August – September carrots.  They were planted as seed a month ago, last roots and perennials planting days. I shall move them to a sunnier part of the shadehouse today, so they get a bit more light so they don't go leggy, but otherwise, they're right for another month.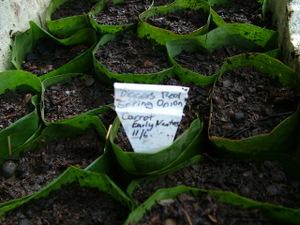 And this is the September – October carrots, planted today, companion planted with spring onions using my standard method.  If I had to plant them out today, I don't know where I'd put them – the garden is too full, the bigger plants will out-compete them, one day of harsh sun as they germinate will kill them.  Planted like this in the shadehouse, I can keep them watered and weed free till July, by which time a lot of lettuces and cabbages will have been harvested to make room for them.
There's very little actual work involved – I grabbed a bucket of creek sand on my way home last night and mixed it with some old compost to make the planting mix. The sowing takes minutes and the planting out only half an hour or so.  Of course it's not quite that simple – there's always seeds that don't germinate,  mice that get them in the shadehouse, bandicoots that break into a garden bed, floods that drown them,  frizzle days that scorch them, and times when I get so busy that planting days just speed past.  But if I can keep the routine going, I can harvest a dozen or so carrots pretty well most weeks of the year.