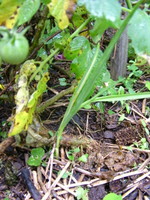 Every year a few garlic plants manage to escape harvesting in early summer.  The leaves die off and I lose them in the garden.  Every year in autumn I suddenly find them again, green shoots poking up from forgotten patches.
The thing is, every year it is getting earlier.
For years I've planted garlic around Anzac Day.  In 2010, my first year of this blog,  I wrote a post about self sown garlic shooting of its own accord in early April.  In 2011 I planted my garlic  in mid March to see if the early planting trick would work again, and a couple of days later I found the self-sown garlic agreed with me.   In 2012, after finding the self sown garlic sprouting in early March I wrote a post about planting the garlic, and how "Gardens are polite, quiet, undemanding, and utterly implacable" about timing.
It's hardly a proper scientific experiment. I save some of my own garlic to plant every year but I also mix up the genes a bit by buying some locally grown garlic to plant too.  It's only a four year experiment, and lots else changes every year too including soil and weather and shade.  But it is an interesting little oddity.
This year, after finding this garlic happily sprouting this week, I'm planting my garlic in February.  Crazy early by standard wisdom, but I'm not going to argue with a plant.
Garlic is one of the most worthwhile plants to grow.  It doesn't take a lot of space to grow a year's supply and it's pretty hardy with dry or cold or hot weather.  Supermarket garlic is mostly imported from China and there's a reason it's cheap. It's treated with methyl bromide at quarantine, and methyl bromide is a nasty chemical.  It's also bleached to make it that shiny white.  Chinese regulation of agricultural chemicals isn't confidence inspiring and the garlic has travelled a long way.  The varieties used are mild and the growing practices push it along so hard that you use masses of it and don't get the flavour.
If you are planting garlic, go to the effort of finding a good local variety.  Garlic is highly day length sensitive so a variety grown at a different latitude won't work for you. If you can't find local garlic, next best option is to do some good research about a suitable variety for your region – short day or long day, hard neck or soft neck.  If you are much north of me in Northern NSW, you are in a marginal area for garlic of any kind.  This far north I have to choose short daylength varieties, or they go to seed without developing a bulb at all.
Then just plant individual cloves in good composted soil, pointy end up, as deep as their own diameter, about 8 cm spacing, well away from peas or beans.  Give them a nice sunny spot and don't overwater. And dream of braids of garlic to hang next summer.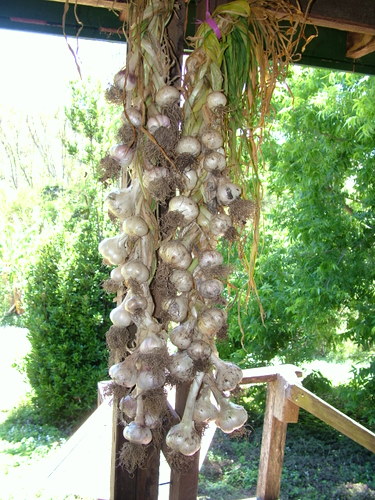 [relatedPosts]