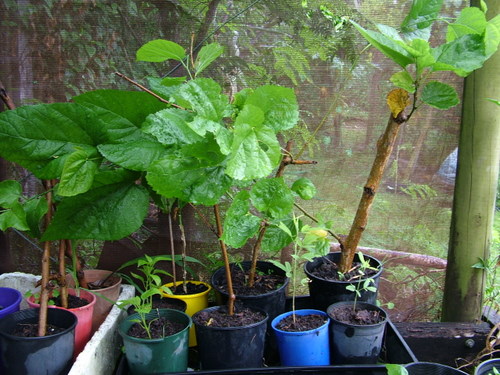 Remember the mulberry cuttings I took back in late winter? A lot of them failed to take. They grew some lovely healthy looking green leaves but it was a trick – just the cutting drawing moisture up. When I checked, there was no real root development.  But a decent number did take, and back in October I potted them on into bigger pots with a richer potting mix (more compost, and a bit of worm castings, mixed with creek sand for drainage). They've been living in my shadehouse since then, being watered regularly and getting a special treat of dilute seaweed brew every week or two. I had a peek at the root development yesterday, and they now have good strong root system filling the pot.
Today is a good time to plant them out. After a few days of heat wave (it got to 41ºC  here one day last week), today it's cool and raining lightly (amazing how often that happens on a lunar calendar planting day). We are past the summer solstice and coming into what is traditionally our wet season, so there's better than even odds of rain to come.  And since they are deciduous, I'd like to get them in with enough time to establish properly before they lose those lovely leaves for the winter.
I've picked a spot for them to take advantage of their deciduousness, where they will make a nice shady area in summer but let the sun through in winter. Normally I'd separate them so that pests have to travel. But I'm going for a strategy, with mulberries, of trying to grow so many that we get some. So I'll plant these all together.  I don't really have high hopes. What usually happens is just that we feed more birds. But I can dream!
I've learned that it is worth it to put some effort into  tree planting – makes a huge difference to the survival rate. I shall plant these with UV stabilised plastic tree guards to give them a bit of protection from wind, and then a chicken wire ring around that to protect them from wallabies.  Otherwise the wallabies just reach in over the top of tree guards. I shall give each one a good bucket full of compost dug into the planting hole and a barrow full of mulch around it.
Besides the mulberries, I'll put another round of carrots, spring onions, and beets in the shadehouse,   using my usual system,  and plant last month's seedlings out into the garden in spots being vacated by zucchinis and lettuces as they finish.  And there's a nice break in the showers for doing it right now.