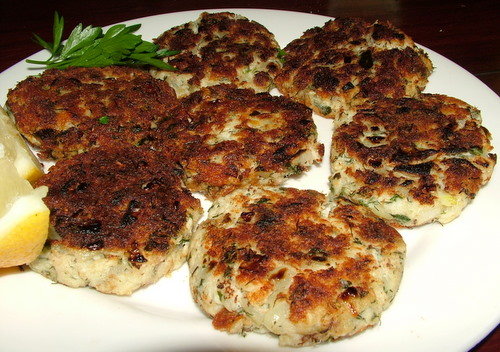 The fishing hasn't been good lately.  He comes home with either nothing, or bream (which are one of my lesser favoured fish) or salmon.   Australian salmon are not a salmon at all, but a sea perch.  They're listed as sustainable and that's at least partly because  they are notoriously not a prized table fish.  They are a good source of omega 3 though, and they can be turned into a good fish dinner with a bit of care.
Salmon are strong flavoured, in the same way that many of the oily fish that are really good for you are – think mackeral, herring, sardines. The flavour gets stronger, fast, after they are caught, so they really need to be very fresh.  The dark  "blood" meat and the fat just under the skin is the strongest, so they should be filleted to remove it. They go best with some acid like lemon or tomato and strong balancing flavours.  And the texture is chewy, so they work best in something where they're chopped, flaked or smoked.
But after all that, they do make very good  curries, casseroles, stews, soups and patties, maybe even better for being stronger flavoured. This is one of my favourite ways to use them.
The Recipe:
Makes about 14 fish cakes.
In a pressure cooker or a large pot with a close fitting lid, poach
600 grams of fish fillets (white meat only, without skin)
juice and rind of ½ lemon
3 bay leaves
In a pressure cooker, you will need just a dash of water and 5 minutes.  In a pot you will need a bit more water and a bit longer.
Cool the fish until you can handle it, then discard the bay leaves and use your fingers to flake it into a bowl, feeling for bones as you go.
Meanwhile, cook 300 grams of diced potato (2 medium spuds) till soft.
Use your hands to squish together:
the flaked fish
the cooked potato
½ cup (packed) of finely chopped parsley and dill (I like it to be two-thirds parsley, but if you like dill, you might go the other way)
1 large onion, finely chopped
juice and rind of the other ½ lemon
salt and pepper
Shape into patties and shallow fry in olive oil till golden.
They're good with salad or vegetables for dinner, and surprisingly good cold for lunch.
[relatedPosts]