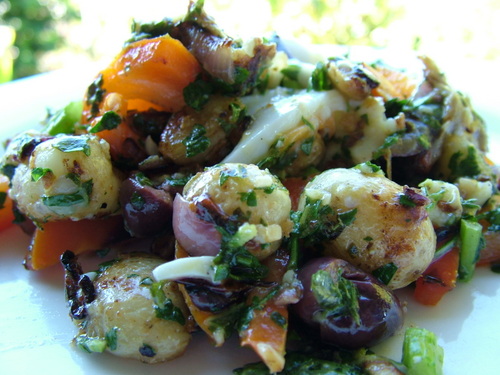 This is the second of my potato harvest Tuesday Night Vego Challenge  recipes. I often have lots of these tiny chats in my spud harvest, and they're the best bit. Add some egg for protein and avoid loading up with mayonnaise, and it's a healthy and very delicious dinner.
New harvested chats are easy enough to wash, that you don't avoid teeny ones because of the tedium of washing them.  I put them in a cotton bag (a recycled flour bag) and put bag and all in a sink full of water, then just rumble them in the bag.  Potato skins contain a decent percentage of the nutrient value of the potato, and reduce the amount lost in cooking.
The Recipe
(For two)
Boil or pressure cook 350 grams of new chats until they are soft.  In a pressure cooker this will take just a couple of minutes. Drain and allow to sit for a minute or two for the steam evaporate off.
Finely slice a red onion, chop 3 or 4 cloves of garlic up fine, dice a red capsicum, and roughly chop 10 black olives
Heat a frying pan up to very hot, add a good slurp of good olive oil and all the vegetables at once.
Cook on high for 5 minutes or so, with minimal stirring.  You are looking for the potatoes to develop brown crispy bits without  breaking up.
While the vegetables are cooking, soft boil 3 eggs, drain and peel.  You want the yolks still runny. If you start with cold water, this will take between 3 and 4 minutes from boiling, depending on the size of the eggs.  Eggs that are very fresh will be impossible to peel – just scoop them out with a teaspoon.
And make the dressing: Blend together a big handful of herbs with a little olive oil and the juice of half a lemon. I like basil, flat leaf parsley, thyme, and aragula or rocket for this.
Chop some celery to give it a bit of crunch.
Toss the warm vegetables together with the eggs, dressing, celery, salt and pepper and serve.
Did you have a Tuesday Night Vego Challenge recipe?  Feel free to share links in the comments.
[relatedPosts]