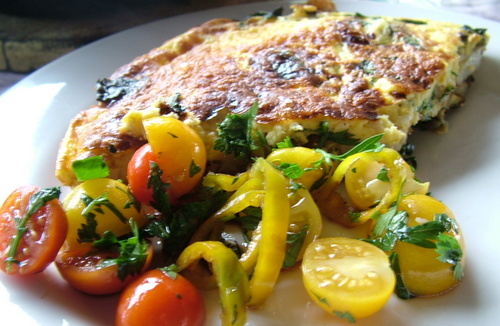 A couple of others in my circle have posted recipes lately for Spanish Tortilla – Cityhippyfarmgirls's Frugal Friday Tortilla de Patatas, and Celia at Fig Jam and Lime Cordial's Dinners at Home tortilla with beetroot, kale and potato.  It must be the moment in the year when eggs and potatoes both peak together to create the perfect seasonal food moment, which is exactly what you want for a recipe that meets the Tuesday Night Vego Challenge rules of fast, healthy, in season, from scratch.
I get eggs all year round, even from my small clutch of chooks of motley ages and breeds.  They have a relatively high protein diet compared to chooks fed mostly pellets.  They are moved regularly to a new garden bed where they have access to greens and grubs and snails and grasshoppers and any worms that are too slow. They get the household scraps including meat and fish bones. I try to give them a some mulch with grass and weed seeds, or  waterweeds with snails and insects and crustaceans, or cow pats with the odd dung beetle, to scratch through every week.  And they get a handful of mixed grain every day, scattered over the top to encourage them to scratch.  They also get a scattering of shell grit from the beach occasionally. With a nice balanced diet and enough exercise to stay healthy, they tend to keep laying for years if a predator doesn't get them. I've had a chook once, of motley mixed breed, that lived to over 10 years old.  But the peak of egg season is in spring when even the geriatrics lay most days.
Up here in northern NSW, I have two spud seasons a year.  The spring ones are planted in early August, as soon as we are over the crest of winter, and are harvested October November. The autumn ones are planted in February, as soon as we are over the crest of summer, and harvested May.  But it's only the spring one where potatoes meet eggs, and Spanish tortilla is the obvious conclusion.  This is my version;
The Recipe:
For 4 serves.
You need a heavy plan that can go under the grill.
Chop an onion in half, peel, and slice finely into half moons.
Finely slice some potato into thin half moons too.  You need about twice as much potato as onion.
Put a good slug of olive oil in a heavy frypan and gently sauté the potato and onion together till they are soft and just starting to colour.
While they are cooking, use a fork to mix four eggs, a good dessertspoon of cottage cheese, and a good pinch of salt and pepper.  You want to just break the egg yolks and mix – don't overbeat.
Finely chop a good handful of parsley and stir in.
Stir the potatoes and onions, pour the egg mix over them, and turn the heat down.  Cook without stirring for a few minutes then put the whole pan under the grill to brown off the top. (If you don't have a grill, you can put a lid on and cook very slowly till the eggs set, but I like the browned top).
Cut into quarters and serve. It's perfect with the acid sweetness of cherry tomatoes, just dressed with a little parsley, olive oil, and salt, on the side.
[relatedPosts]