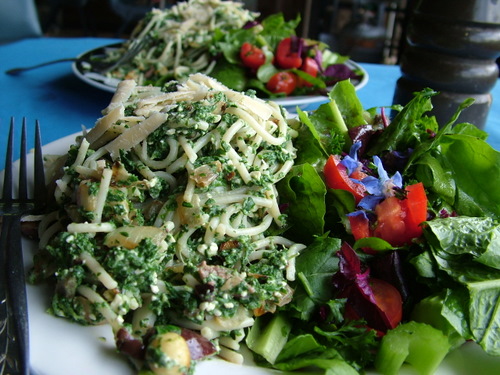 This is just skiting really.  Weekend lunch.  Little bit of feta in the fridge, and some spaghetti in the pantry.  I should really have made the pasta – homemade is so much better and eggs are fully in season right now.  But for a quick knock up lunch, healthy, tasty, large and filling but not too many calories, and mostly out of the garden, I thought it looked too good not to post!
The Recipe
For this to come together in 10 minutes, you need to do four things at once!
Put the pasta on to cook.
Heat a pan with a little olive oil and saute a finely chopped onion.  Chop and add a few cloves of garlic, some olives and some macadamias and cook till it is all a bit browned and caramelised.
Rinse a bunch of spinach and put it in a pot with just the water on the leaves.  Put the lid on and blanch for just a minute or two to wilt.  Drain well and transfer to a food processor with a little bit of feta cheese.
Make a salad.
Toss parts 1, 2, and 3 together, and serve with a generous amount of 4.