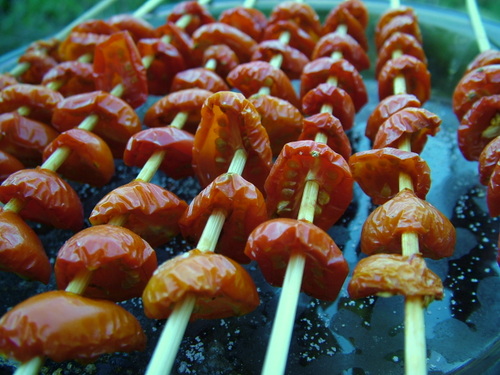 Over 40ºC (104ºF) again yesterday, and it looks like it will get up there again today.  The Climate Change Commission is warning that we'd better get used to it. Climate change doesn't cause heat waves like this – it just puts bullets in another couple of  chambers for the game of Russian Roulette we're playing.
But meanwhile, if life gives you lemons a good permaculturist makes lemonade. So if life gives you a heat wave, a good permaculturist forgets making tomato passata and puts all that lovely solar energy to work making sun dried tomatoes instead.
Principe Borghese are like a mini-Roma, a bit larger than a cherry tomato and football shaped.  They're nicely acid-sweet and brilliant for drying.  They're indeterminate, which means they just keep growing and fruit all summer on a tall climbing, prolific bush.   They're very fruit fly resistant and hardy.   I have a number of methods for drying them, but my favourite for ease is to halve the tomatoes, sprinkle with salt,  thread them on satay sticks and lay the sticks across a pie dish, then put the dish on the dashboard of the car, parked to face north, windows up.  In this weather they dry to leather in two days.
This method fits nicely with my preferred gardening style of successional planting to give small yields of a big variety over a long time. It means I can put a couple of dishes out to dry each morning before I dash off to work, and tomatoes for winter happen without needing a huge quantity of tomatoes ripe at once, or a swag of time, or any fuel, or any special equipment.
I put a clean glass jar, lid on, on the dashboard at the same time.  The sun sterilizes it. I can then pack the dried tomatoes into it, cover with olive oil, and they will last on the shelf without refrigeration all year.  I am very lucky to live in a climate where I can get fresh tomatoes most of the year so long as I start them off in the shadehouse, rotate the beds, and don't try to plant too many at once.  But from July to October it's usually just enough for eating fresh, not for cooking.  A dozen jars of sun-dried tomatoes gets me very happily through that patch.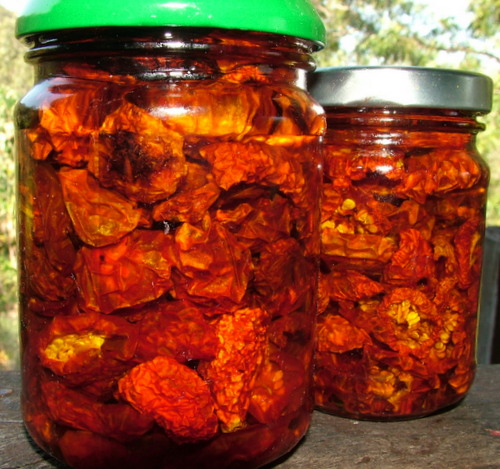 [relatedPosts]