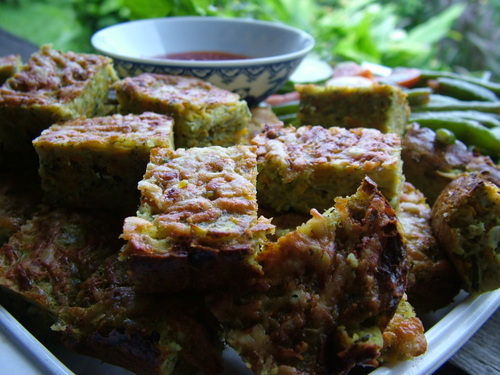 Today is just the second day in the last two months that it hasn't rained, a gorgeous sky blue day but my garden is still too wet to plant.  The zucchinis have struggled in the wet, but the tromboncinos have done really well right through all this rain.  (And the Suyo Long cucumbers – very impressed with their mildew resistance).
So my glut crop is tromboncinos rather than zucchini, but this recipe works equally well with both.
Zucchini, Carrot and Sunflower Seed Slice
Turn the oven on to heat up.
Grate 1½ cups of carrot, 1½ cups of zucchini, and one onion.
Put them all in a heavy pan with a good swig of olive oil and fry, stirring occasionally, for a few minutes.  The idea is just to heat the vegetables through, soften them, and evaporate a bit of moisture.
While they are cooking, blend together:
½ cup of  cottage cheese 
3 eggs
a good handful of flat leaf parsley leaves
1 big tablespoon of wholemeal plain flour
salt and pepper
Grease an ovenproof dish well.  I have a square, pyrex dish 20 cm square that is perfect for it.  You may like to line the base with greaseproof paper – it does come out without it but it makes a little less risk of sticking.
Mix the egg, cottage cheese and parsley mix with the vegetable mix.  Add 1/3 cup sunflower seeds and mix well. Tip into the oven dish and smooth out the top.  Sprinkle the top with grated cheese.
Bake in a hot oven for 15 minutes until golden on top.
Allow to cool for about 5 minutes, then tip it out and slice into little squares or fingers.
Serve on a platter to share, with chili jam or chutney or homemade tomato sauce, or cold in a lunch box or picnic basket.
[relatedPosts]