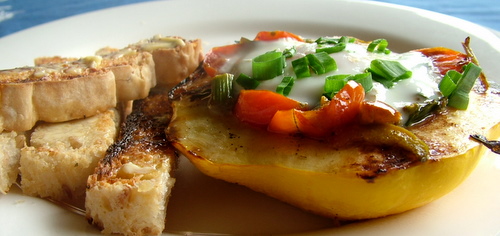 Five serves of vegies a day.  Doesn't seem like much, but it's amazing how many days I realise I haven't had my five serves.
I'm harvesting squash, tomatoes and capsicum from the garden, our new chooks are laying, I'm having lots of fun with sourdough, and I've been racing off to work every morning to sit at a computer all day lately and not getting enough exercise.  So this is my current favourite breakfast.
The Recipe:
For one – multiply by the number of people.
You need a nice heavy frypan with a lid for this. It takes less than ten minutes to make.
Slice a large button squash in half and use a dessertspoon to scoop out the middle.  Place it cut side down in a frypan with a tiny bit of olive oil over a medium heat.  Put the lid on and don't peek too much.  Cook for a couple of minutes until the squash just starts to brown.
At the same time, in the same pan or another if you are making for a few people, sauté some spring onion, capsicum, tomato, and if you like a bit of spice, a little chili.
Turn the squash over.  Salt and pepper it and put a little dab of butter in the scooped out centre.
Spoon in tomato-onion-capsicum mix to nearly fill the hollow.  Hollow out the middle of this mix a tiny bit and break an egg into it.
Pour a tiny bit of water into the pan, enough so that the squash is sitting in a few millimeters.  Put the lid on the pan and turn the heat down to medium-low.
By the time you have toasted some sourdough for soldiers, the egg should be set and the squash tender.
[relatedPosts]