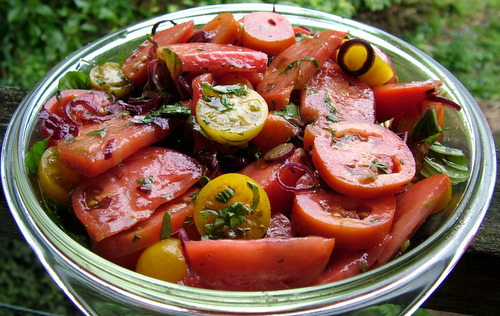 This post is just skiting really.  Not a recipe at all, just an excuse to show off. Can you see how proud I am of my tomatoes?
Tomatoes go up there with onions and garlic in my kitchen, as staples that I just can't do without.  Up here in my frost free climate, I can usually keep cherry tomatoes going right through winter, so even in the lean times we have a few for eating fresh. But not enough for cooking, so tomatoes are one of the few things I bother preserving. I like to grow enough to bottle and sun dry some though the summer.
Year before last I had a very ordinary tomato year – just low yields and plants that looked like the "before" ad. I knew why. I had just tried to grow too many for too many years in a row, and I was repeating them in places they'd been before too recently. So last year I backed right off and gave most beds a complete break from tomatoes. Two years in a row with no tomatoes to boast about.
So this summer I'm very happy. I have Brandyvine, Principe Borghese, Yellow Cherry, and San Mazano tomatoes all doing well, and I had forgotten just how divine a salad of real tomatoes can be. Brandyvine are just a taste sensation, so very very different to anything you can buy.
The Recipe
You need real tomatoes –  sun ripened, in season, varieties bred for taste rather than transportability and artificial ripening.  For real decadence a few different varieties so you can savour each kind.
The dressing is just a teaspoon of balsamic vinegar, a teaspoon of olive oil, a little bit of finely sliced red salad onion, a teaspoon of chopped fresh basil, half a teaspoon of chopped fresh thyme, and a little salt and pepper.
Divine.
[relatedPosts]