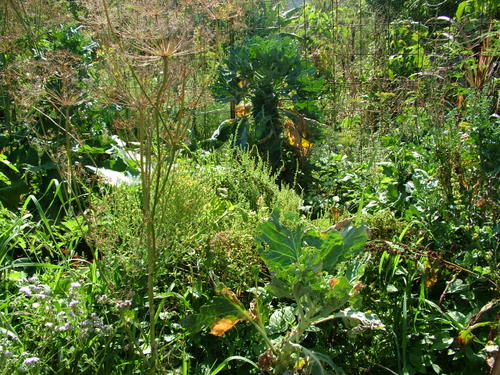 This is the bed the chooks are about to go onto, when I get a moment to move them.  I have to intensively fence my garden beds anyway, to keep out bandicoots, bush turkeys, padimelons, wallabies, possums, bush rats, bower birds – the list goes on.  I haven't planted anything new in there for the last three months, and just about everything is now harvested, though I shall have a look through before I move the chooks on – I think there are still a few beetroots, carrots and leeks hiding in there.
There is a feast for chooks in there – brussels sprouts infested with caterpillars, a tromboncino vine gone rampant, self seeded bok choy, some old silver beet gone to seed, the first round of beans now finished and the last of the vine, with the beans not worth picking still on it.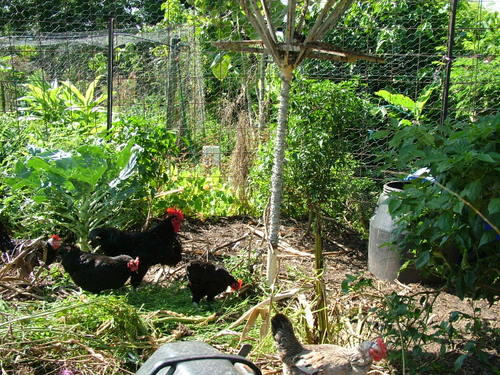 This is where the chooks are now, happily clearing and fertilizing a bed for me. They sleep up on their artificial tree – a moveable roost that stands in a bit of galvanised pipe donged into the middle of each bed. I found they liked roosting in a real tree, and they were right about it being safer than any cage I could provide. But free ranging chooks are just too destructive in a garden, and I have work for them to do!
So they have a moveable roost, and a water bucket and laying box, and an old kids "shell" pool propped up to provide bit of shelter from heavy rain, and I have a fresh new chook run, complete with a few weeks supply of greens, every month. I throw the chooks the weeds, household scraps, azolla, grass clippings, and any other organic matter I can get my hands on, along with a few bags of horse or cow manure which they scratch through looking for insects and in the process mix nicely with all the other organic matter.
This is where they were last, a couple of weeks ago. They've created a good 30 cm of sheet compost over the bed by scratching through all the organic matter I've thrown to them, and they've very diligently scratched right over the surface soil searching for any insect larvae or eggs.  I've been able to plant advanced seedlings straight into it.  (But I should get around to top dressing with some more mulch sometime very soon).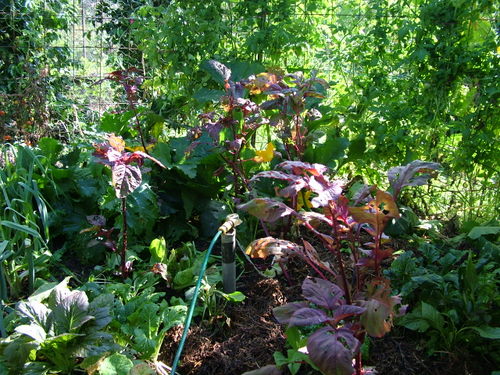 And this is where they were before that, about two months ago.  And where they'll come back to again in about another 8 or 9 months. By planting advanced seedlings, I'm harvesting in a matter of weeks.
Chooks and vegetable gardens are such an elegant arrangement.  I've tried lots of ways of combining them, from domes to compost making down a slope, but I'm really liking the current solution.
[relatedPosts]