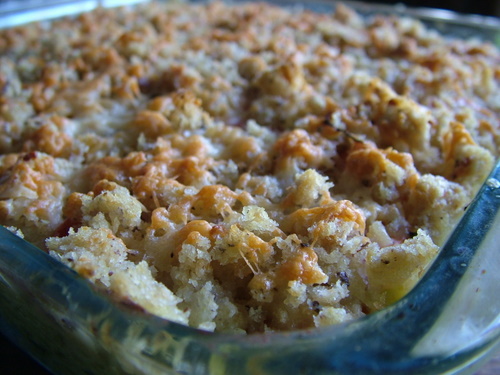 Have you noticed yet that I have a certain amount of experience with zucchini recipes? There is a Marge Piercy poem that I think perfectly sums up zucchini: Attack of the Squash People. I thought I had learned the lesson: One, no more than two, zucchini each planting break.
But then this year I discovered trombochino.  I like climbers in my fortress fenced up-gardens  – they maximise the use of space – and I really like trombochino. They taste pretty much like zucchini – a bit firmer and denser, like zucchini minus the middle bit.   But I don't know whether it is just this year – it has been a perfect curcurbit year, cooler and wetter than usual but with the long, light days of summer – but the trombochino are triffid-like taking over the garden. I leave bags of them in the roadside mailbox. The chooks refuse to eat any more.
This is the third in the Tuesday Night Vego Challenge series. It's an old favourite. It uses about 4 medium zucchini.  Eight if you double the recipe – it also makes good leftovers for lunch. Makes a small dint.
The Recipe:
Makes four large serves.
This can be done in half an hour but you have to really multitask at the beginning because most of the half hour is baking time.
Oven on to heat up.  You need a fairly hot oven.
Kettle on to boil for water for pasta.
Food processor out.  You can do it all without a food processor, just with a grater and a blender or eggbeater, but I can't promise half an hour.
Part 1: Pasta
Cook a cup of pasta in boiling water till just cooked. Don't overcook it.
Macaroni, shells, or small spirals work best.
Part 2: The Crumble
Crumb
two slices of heavy wholegrain bread and mix with
two dessertspoons of olive oil and
a dessertspoon of grated parmesan.
I do this in my food processor. Leave the crumbs a bit coarse, not too fine.
Part 3: White Cheese Sauce
In a small pot, heat
a cup of low fat milk with
a cup of low fat cottage cheese and
3 bay leaves,
till the milk starts to rise. It will curdle – that's ok. Fish the bay leaves out.
While the milk is heating, tip the crumbles out of the food processor and (you don't need to wash it), blend
1 egg and
2 big dessertspoons of plain wholemeal flour.
With the blender going, add the hot milk-cottage cheese mix. Pour back into the small pot and reheat, stirring with a wooden spoon, till it thickens. This will take just a minute or two.
Part 4 – Grated Zucchini and Feta
Grate
two packed cups of zucchini (or trombochino) and
100 grams of low fat feta cheese.
Slice enough tomatoes to cover the top.
Assembling:
Mix the grated feta and zucchini into the white cheese sauce and tip the lot into a small baking tray.  I have a square, pyrex 21 cm dish that is perfect for bakes like this.
Cover the top with sliced tomatoes, then spread the crumble mix on top of them.
Bake in a medium hot oven for around 20 minutes till the top is golden and crunchy and the middle is hot all the way through.
Great on its own, or with a green salad, and makes good left-overs for lunch the next day as well.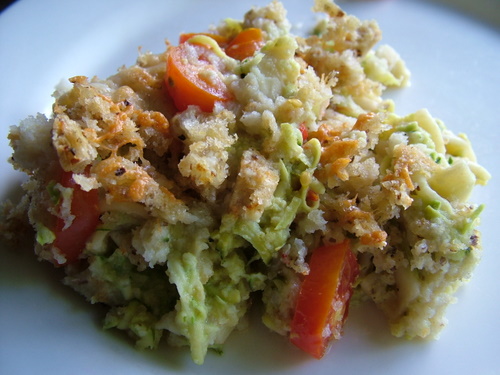 Did your Tuesday Night Vego recipe feature zucchini too?  Feel free to leave links in the comments.
[relatedPosts]