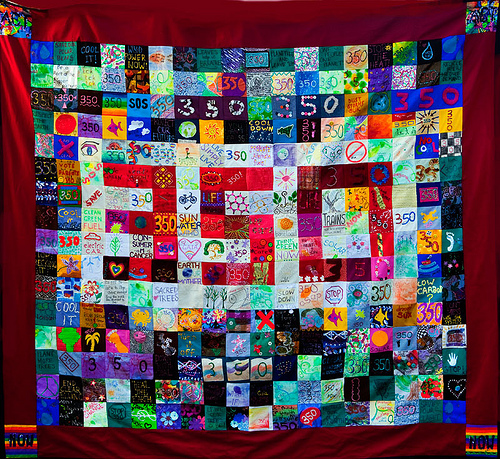 Today is my blogiversary. It's had me paralysed for a week – too momentous an occasion to know what to write. Often around this time of year I take some time to just think, to get back far enough from the trees to see the forest. The Witches Kitchen came out of this process last year.
I had just finished helping sew together the quilt we made as a community project,  as part of the 350 campaign to highlight 350 parts per million of carbon dioxide in the atmosphere as the threshold to safe levels. At November 2010, we're at 388.59ppm and rising, and as the 350.org site says, "make no mistake—getting back to 350 means transforming our world".
The irony is that I believe it involves transforming our world for the better.  I don't believe it involves making sacrifices, not real ones. I believe it involves shutting our ears to the Siren calls singing corn-syrup sweetly but in reality just luring us to death and disaster.
Sure electricity and petrol will be dearer, a lot dearer, but there will be much less opportunity for "accidents" like the Gulf of Mexico spill, or reason to sacrifice the Liverpool Plains wheat, corn, sunflower seed, barley, chickpea and bean crops for coal, more reason to get fit walking or turn the TV off and go play with the neighbours.  To me they're trades, not sacrifices, and very good value trades.
It was out of that idea of being part of transforming our world that The Witches Kitchen was born.  Food seems to me such an obvious place to start – small changes that lead to a better lifestyle at every level. The personal and the political, self interest and idealism, align so perfectly. Cooking and gardening are not work but sensual play and so make great ear wax against the siren call of industrialised fake food that is not a small part of the problem.
I'm not sure which way to take it in 2011.  I'd love your advice.