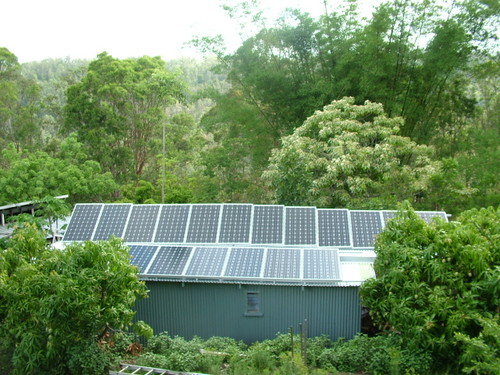 Our new solar system.  So exciting, and it has been surprisingly affordable – solar technology is moving ahead so fast now. Eighteen 250 watt panels – way more power than we will ever use in the house, but enough, so the plan is, to run an electric car. Or van actually – this is the one we're looking at.
We've lived with stand alone solar long enough to have learned how to be very frugal with electricity without sacrificing any quality of life things.  All our lights are now LED (with candles for dinner party mood lighting or quiet, listening to music evenings). The TV is 17 inch LED.  The computers are laptops.  Electronics are pretty good with electricity consumption so long as you turn them off when you're not using them.
Electric motors can use serious power if you use them a lot. The food processor only gets used for seconds at a time, so it doesn't count. I sweep rather than vacuum.  The washing machine is a twin tub – both water and energy efficient and very kind on clothes.  The fridge is a small (80 litre) and super efficient, and we eat mostly fresh food anyway.
The big energy guzzlers are heating and cooling – so solar hot water boosted by a slow combustion wood stove in winter, that also heats the house and is used for cooking. A gas stove and a little, stick burning Japanese barbeque for summer cooking, no kettle, no toaster (boil the kettle on the stove, cook toast under the griller).  In summer, we practically live on our north facing verandah, shaded in summer by a big deciduous pecan tree that works as a natural air conditioner. And the bloke's latest project (actually ongoing for quite a while now, but finally getting to nearly there) is a reed bed filtered swimming pool – or more like a Japanese bath house really – for when it is really really hot.
So with nearly 5 kva, we will be so power wealthy we won't know what to do with it until the van becomes a reality!
This is our old system.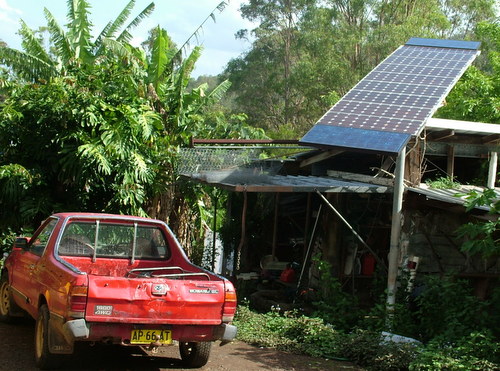 See the tiny panel second from the top? That with a car battery was our original solar system. It's now 30 years old, and has well and truly earned its cradle to grave power cost.  It powered a couple of lights (one at a time), a radio, a CB, and little black and white portable TV very occasionally.  No washing machine – I washed nappies in a little hand operated washing machine like this one. No fridge. We had a kero fridge for a while but it was so smelly and unreliable I just stopped using it.
They were hard days, but it also meant no power bills, and the money saved went into escaping the trap of not enough capital to afford the infrastructure to save the capital to afford the infrastructure to….
We added another little panel a few years later (which has moved on to powering the new swimming pool pump), then the two panels at the top and the bottom were added 22 years ago – enough power to run a very tiny 12 volt fridge and a computer.  Then, about 15 years ago we bought the eight middle panels second hand. Two of them have since died, but all in all we've come out way way ahead in power bills over the years.  And never any unexpected blackouts.
I watched a Foreign Correspondent episode about coal seam gas in USA a few days ago and it was shocking to see how sucked in they are. I live in a region being fracked for coal seam gas. Our road has declared itself Gas Field Free – Protected by Community, but unfortunately the air and water don't recognise boundaries. Let alone the climate. It stuns me that people behave like fish, just taking dollar bait dangled in front of them, even when it is so painfully obvious that it's a scam and they're just going to end up flapping on the shore, losing their home, their environment, their life support system.  When it's just so stupidly, stupidly unnecessary.  5 kva of electricity on our shed roof, powered by the sun and with no emissions at all.