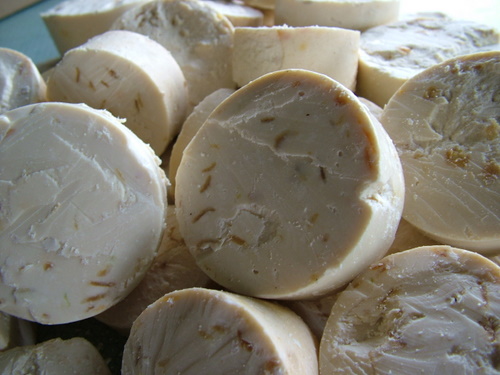 There are so many great soap makers out there that I hesitated to post this.  Please feel free to leave links and tips in the comments!  But in case you are overwhelmed with too much choice, here's my one simple, rustic but gorgeous soap making recipe.
I make soap once a year, in time to give it away as Christmas presents. I truly hate the commercialisation of Christmas. Unless I can do handmade presents I feel really yucky and conned by the whole thing.   But homemade vegetable oil soap is so luxurious that it makes a great present.
The downsides are that making luxury soap is not super cheap, and you need to get organised a couple of months in advance to allow it time to cure.  The upside is that it is not that expensive – for about $30 to $40 you can make about 50 bars of soap that is truly decadent.  And having a good incentive to have it done months in advance is kinda nice.
The Recipe:
It is worth being well organised and prepared. It's not hard at all to make soap, but it is one of those things where there is potential for lots of disasters if you are trying to multitask.
You need:
A nice well ventilated space with no kids, dogs or disruptions for a couple of hours.
Shoes and long sleeves – caustic soda burns if it splashes on your skin.
Plastic gloves.
A large stainless steel or enamel pot.
A 10 litre plastic bucket.
A big plastic or wooden spoon, long enough to stir the bucket.
Scales and a measuring jug.
Moulds.  Waxed milk cartons work nicely for square soap.  Cut down plastic one-litre milk bottles make round moulds.  Recycled post tubes also make nice round soap if you tape the stopper at the end on well.
Ingredients:
1000 gm coconut oil or copha (for good bubbles)
2 litres olive oil (for hardness)
500 ml macadamia oil (for palmitolic acid which is beautiful on your skin)
500 gm solid oil (like Supa-Fry)  (for setting)
687 gm caustic soda
Step 1: Make up your caustic solution
This is the bit that everyone gets worried about.  Caustic burns if it gets on your skin, and when mixed with water it instantly gets very hot and gives off vapour that you'd rather not breathe.  So do this bit carefully in a well ventilated space with gloves and long sleeves.  (And you probably really should wear safety glasses as well).
Use your measuring jug to put 1.83 litres of cold water in the large pot.   Weigh the caustic soda and very carefully sprinkle it into the water, stirring all the while.  The mixture will get very hot and give off vapour. DON'T POUR WATER INTO CAUSTIC (or it might bubble and spit furiously).  Do it the other way round – add the caustic to the water.
Cool this pot of caustic solution to baby's bath warm temperature.
Step 2:  Mix Your Oils
Pour your liquid oils into the bucket.  Melt the copha and solid oil together,  add to the liquid oils, and mix thoroughly.  Bring the oil mix to baby's bath warm too.
Step 3: Stir the Caustic Solution into the Oils
When both the caustic solution and the oil mix are baby's bath warm – between 35° and 37° C – slowly pour the caustic into the oil in a thin continuous stream, stirring all the while.  This mix is still burny so take care not to splash it on yourself.  Continue to stir for about 10 minutes, then frequently for an hour or two, until the mixture has thickened to a thick custard consistency and gone pale.
Step 4:  Add Other Ingredients
At this stage you can stir in other ingredients if you like – essential oils, dried rose petals or lavender, rolled oats.  I like to keep it simple. I added a few handfuls of rolled oats and some grated lemon zest to this batch.
Step 5:  Pour into Moulds
Pour your soap mix into your moulds, banging them to remove bubbles.  Take care – it's still a bit caustic.  It won't burn instantly but it will sting.
Step 6: Slice into Bars
Leave it for a day or two to set.  After a day or two, your soap will be set hard enough to slice up.  The longer you leave it the harder it gets, so there is a knack in picking the moment when it is firm enough to cut but not so hard it crumbles. I use a thin bladed bread knife, dipped in boiling water, to slice it up.  This is rustic soap – it won't slice perfectly neatly and some will crumble. Proper soap makers use individual moulds. You can try "rebatching" the crumbles.
Step 7:  Allow to Cure
The soap needs to cure for several weeks to finish its chemical reaction and harden.  At that stage it will miraculously have lost the caustic sting and will have hardened to a beautiful white, fine grained hard soap with a nice lather and a really luxurious feel on your skin.
[relatedPosts]