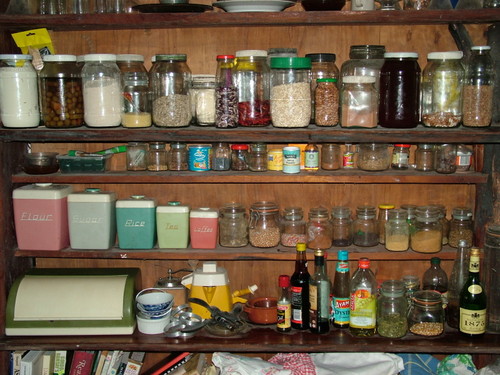 Liz at Suburban Tomato did a post recently of  Top 5 – Pantry items for the Kitchen Gardener. I was going to comment, but hard as I tried, I couldn't get anywhere near down to five.
But it did inspire me to start thinking: what are the pantry staples that I'd really want to have on hand if someone called me into a challenge like Fiona's recent one (that I followed avidly) on Inner Pickle?
Salt: Number one would have to be salt. You can see why it was such a valued trade item. I don't use a lot of salt, certainly nothing like the amounts that are in processed foods.  But a bit is essential for healthy eating, and very essential for happy eating.
Bakers Flour: Number two is bread making flour, for bread and crispbread and pasta.  I buy Laucke Wallaby Unbleached Bakers Flour in 5 kg bags at the local supermarket.  I guess I'm showing my culinary heritage there!
Wholemeal plain flour: for mixing with the baker's flour to make the heavy, grainy bread we like, but also for making pies and cakes and biscuits.  I buy Kialla organic wholemeal flour  in bulk from the local wholefoods shop.  It comes from just outside my 100 mile zone.
Oh, and baking powder to go with it to make self raising flour .
Oats: If I had to choose just one form, it would be steel cut or groats, for porridge but also for biscuits and baking and bread and risotto. If I didn't have to choose just one, I'd have rolled oats too. I have tried growing oats – bandicoot varieties so that processing wouldn't be prohibitive, but I haven't really cracked it yet.  In bulk from the local wholefoods shop.
Milk powder, ideally both skim and full cream.  One day we might get back into having milking goats, or a shared cow.  We don't use a lot of milk, but with powdered milk I could make yoghurt and labne and cottage cheese, which opens up a big range.
Olive oil: Good, extra virgin olive oil. Not an item to be a scrooge with. I buy Australian olive oil in 4 litre tins.
Macadamia oil: If I have maca oil, I don't need butter. Olive oil has its own, very distinctive fruity flavour. Macadamia oil has a milder, nutty sweetness that lets me use it instead of butter in every recipe I've found. I can buy local maca oil in bulk from my local wholefoods shop.  Lucky me.
Honey: I could do without sugar, but honey would be hard. And I'm not a sweet tooth. We can buy it in bulk from a local grower.
Soy sauce or tamari: I guess if I had salt I could live without soy, but it wouldn't be easy.
That's the top ten, I think, and I think with them and a garden, I could live and cook for a long time without getting bored or malnourished. But there's another ten that I'd really miss.
Chocolate, or at least cocoa powder.  Self explanatory! (It's imported, but fair trade and worth the food miles).
Spices: Black pepper, cinnamon, nutmeg, cloves, star anise, cardamom – most are tropical and imported, but they add so much it is easy to see why they have been traded for most of human history.
Brown rice: I can buy locally grown dryland biodynamic brown rice, and its nearly the same price as the cheap and nasty supermarket brands.  I can even buy it in bulk at the local wholefoods shop.
Brown sugar: for baking, but also for preserving.
Vinegar (Balsamic and cider please). I could brew it but I don't.
Fish sauce: I could live without it, but it does open up a whole range of Asian cooking that makes garden produce gourmet.
Sesame seeds: ok, I do grow them, but never enough. For baking and for tahini.
Sunflower seeds: I grow sunflowers, and we eat some like pistachios shelling them one by one, but the chooks get to eat most of them. I've never discovered a way of hulling them that is viable for quantities.
Pearl barley, for bread and also for soups and stews, and just as a nice low GI high fibre carbohydrate.
Polenta: If I get a good corn year I can grow and make it, but it falls into that second tier of gardening that I only do in quiet years (which seem to happen very rarely these days).
And I can think of another ten I usually have in my jars – quinoa, millet, rye flour, oat bran, dates, brown and red lentils, couscous, molasses, vanilla beans, sultanas.
Thirty items in my essential pantry (and to be fair I did cheat a bit by doubling up on varieties).  But with this lot, mostly bought in bulk, I can stay out of a supermarket for months on end.
What have I missed?
[relatedPosts]