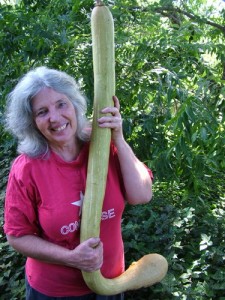 Tromboncino is my new favourite vegetable.   I got my seed from Diggers and I think they will displace zucchini in my garden. They grow like a very rampant cucumber, and by using lots of vertical space they conserve my precious intensively fenced ground space.
In my enthusiasm this year, I planted a couple of vines each planting break from late winter on. I now have one or two vines in each bed, growing up the south side fence, and I've got to the point where the neighbours and the chooks are just about over tromboncino and I don't dare go away for the weekend for fear of them taking over the whole garden. Luckily I have a good repertoire of zucchini recipes, that all seem to work well with tromboncino.
I am going to try to see how long they will keep growing through winter. I have one vine that is now almost a year old – survived right through last winter. It is not bearing well enough any more to justify it's spot, and last winter was very mild,  but still, it's impressive.
I have let a couple of the fruit grow out to save seed.  This is my first attempt at saving seed from them, so it's experimental, but I figure they probably go much like pumpkin or cucumber.  I have been picking the fruit at this size – about 30 to 50 cm – for eating, so it has been interesting watching these ones growing, and growing, and growing.
The bulb at the bottom has the seeds in it, a bit like a butternut pumpkin. I've washed and dried them, and I shall test a couple for germination this month, though I suspect like the rest of their family they are really a hot weather crop.  We have been eating all the neck part like a pumpkin. It's not the best pumpkin ever – a bit bland and watery, like a gramma – but it works fine in soups and stews, diced and steamed as a side dish, or in muffins and scones.
If the zombocalypse hits, I think we'll be living on tromboncino, Jerusalem artichokes, and bush turkeys.
[relatedPosts]