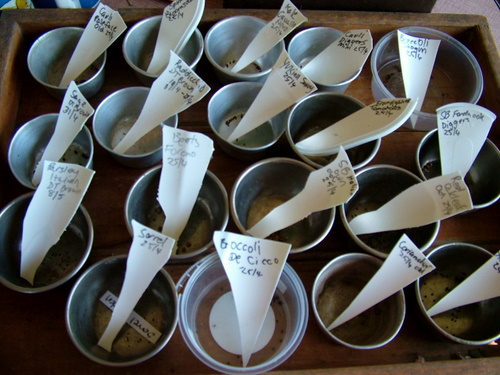 I thought I might share this little trick with you, because it took me a ridiculously long time to think of it!
I'm a strong believer in succession planting. For most annuals in my garden, I plant a very small quantity of each thing every month through it's season.  So, for example, this month I have planted the first of the cauliflowers for the year.  But we will eat only two or three caulis a month, given all the peas and snow peas and broad beans and broccoli and spinach and everything else we've got to choose dinner from. So I only want to plant about 8 seeds, of which 6 are likely to germinate, and I'll choose the strongest four to pot on, and the strongest  three of those to plant out. We're likely to eat a couple and give at least one away.
Then I'll do the same next month, and the one after, all the way through till early July, by which time my caulis would be running into Spring weather and cabbage moths before they mature.
The problem is that, planting just 8 seeds each time, a packet lasts an awfully long time.  Too long.  If I take the whole packet out to the shadehouse, I'm likely to be dipping into it with damp or dirty fingers, or putting it down in the sun, or an errant spray from the hose wets it. Which means that, too often I am missing a planting because of old seed that fails to germinate.
So these days, I sort my seed indoors, in the cool dry shade.  I put the number of seed I intend planting in a little pots and make up the label for the seed raising box to put with it.  I label carefully, including the variety and the date that I expect it to germinate by.  I also note in my garden diary what I am planting.
Then I take just this tray out to the shadehouse.  The packets of seed stay in the seed box indoors. Anything that fails to germinate by its due date is culled from the seed box.  I might chuck all the rest of the packet in to see if something comes up, but I won't rely on it again.
It's such a simple little trick, but it saves so many failures!
[relatedPosts]